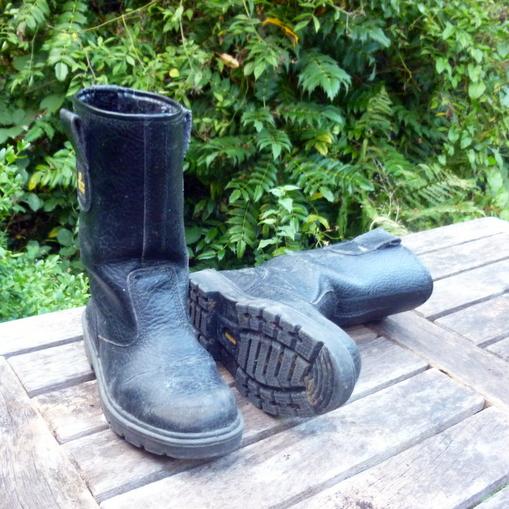 When I was dismantling the kitchen in a rush before the builders arrived, I dropped a cupboard on my big toe. It hurt like hell and I realised that if I was going to fit my own kitchen and tackle all the carpentry in the cottage, I needed some decent work boots. I eventually found some in my tiny size in southern Ireland at a bargain price. They are brilliant, heavy soled stomping boots that have saved my delicate toes over the last few months.
While I was thinking about my work boots I remembered another much more interesting boot story.
Last year my sister Seraphina lived here for a few months, when my mum was very ill.
I love my sister very much but actually living alone suits me fine. During those months it was good to get to know her better and share the horror of a very sick parent. But visitors need a lot of attention and care. You can't just switch them off when you want a break. I think that Seraphina thought the same too. My garden became her refuge.
Boredom eventually tempted her out of the cottage into the overgrown wilderness of my garden. After breakfast and a long perusal of the The Times newspaper, she would pull on her wellington boots with a flourish. With loppers in hand she would vanish into the garden for hours.

It was marvellous – it got her out of my hair and I could get on with things.
Then for a number of weeks she lost interest in the garden. Her boots were kicked aside. and when they fell over became the perfect retreat for small animals rushing from Pushkin's needle sharp claws.
When she finally decided to take up the loppers again and venture out into the jungle she pulled on a boot,
"I can't get my foot into the boot. There's something in there!"
"Rubbish" I replied – I was keen to get her outside.
Suspecting the worst I shot across the kitchen, grabbed the boot and shook it upside down. A dead mouse dropped out, covered in a film of thin white wriggling maggots.
Now my sister was shielded from a view of the maggots. As I tossed the mouse and maggot pals into the bin I said.
"It was just a dead mouse. And a maggot or two"
"But I wanted to tackle the garden"
"I'll just do this," Switching on the kettle, "The garden is waiting!"
I washed the boot out with boiling water at speed. Maggots do not survive boiling water. I flicked the boot several times, rinsed it again and returned it to her.
"If you really insist on going into the garden the boot will be a bit damp but with no maggots. Guaranteed!"
So she pulled on the boot, without any shrieks and tootalled into the garden for the rest of the morning.
As the hours progressed, I wondered about the maggoty boots. At lunch time I inquired gently,
"No more maggoty surprises?"
"Well I did think that I felt them. Only imagination of course."
Wellington boots have a lot of puckered seams where dead maggots could stick.
Say no more.
Leave a reply