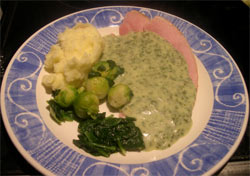 We always buy a ham at Christmas to keep the goose company in the fridge and provide us with endless meals. Starting with ham sandwiches on Christmas day and hot ham with a fresh parsley sauce on Boxing Day. The latter is eaten on trays as we indulge in an afternoon of horse racing on the telly.
Danny and my mum sit watching the racing whilst I put on my pinny and provide the maid service end of things.
Homemade parsley sauce is a cinch to make. A basic Béchamel with parsley lemon and quite a bit of freshly ground white pepper makes a good sauce with a bit of a kick. I slice up enough ham for the meal and steam it for a couple of minutes before popping it onto warm plates and pouring over the sauce. Simple, delicious comfort food.
Fresh parsley sauce recipe
Ingredients:
50g of butter
75g of plain white flour
500ml of milk
3-4 tablespoons of finely chopped parsley
1.5 teaspoonfuls of fresh lemon juice
2 tsp of Anchovy essence
0.5 flat tsp of garlic granules
a good couple of twists of ground white pepper
Method:
Heat the butter and, when it has melted, add the flour. Let this roux simmer for a minute or so to get a nuttiness. Add the milk gradually, stirring constantly so that the roux absorbs all the milk before you add the next splosh. In this way you should avoid lumps.
When all the milk has been added let the sauce simmer for a couple of minutes before adding the lemon juice, garlic granules, anchovy essence and parsley.
Stir well and simmer very gently for ten minutes to thicken. (If you prefer a thinner sauce add wrm milk in small amounts to get the desired consistancy).
Pour over the hot ham and serve with mashed potatoes and green vegetables.
Leave a reply