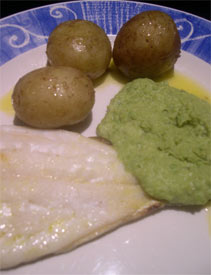 I have a sort of love hate relationship with broad beans. Having loathed them when I was growing up I now find that I love small fresh young ones. However they do not stay small for very long. Then I have a problem. I hate the skins of bigger, older beans. They remind me of the tips of old men's fingers that have soaked in the bath for too long. They seem to taste a bit like skin too.
I decided to make a broad bean mash to accompany some frozen cod last night. Most of the mash recipes that I have perused recently contain cumin. As D doesn't like cumin I decided to use Marjoram as a starting off point.
"I'd say that's far too much Marjoram." Danny carefully examined the three small stalks on the board.
Thank goodness I hadn't mentioned that the bag of cod was unmarked and could be smoked or unsmoked. Tired, but not enough to miss the signs of a potential mid week tiff, I dropped the idea of Marjoram and decided to try some Lemon Balm tips. This self seeds all over the garden and I remembered its lemony and fresh flavour. We have bushels waiting to beetle into the kitchen and transform into a dish. Friends make tea with the leaves. Why not extend the repertoire?
I added them to the mash and they added just the sort of piquant lemony hint that I was looking for.
Loads of recipes for BB mash include cream. Ever since I started reading Joanna's Food, a great blog packed with recipes for a healthy heart and lots more, I feel a bit guilty when I splosh cream into a sauce. Instead, I reached for the rape seed oil, feeling instantly slimmer.
The result was rich, deep and tangy. The perfect foil for the unsmoked cod. It didn't kill the subtle flavour of the fish or the delicate new potatoes and made D smile after the first, tentative, taste.
I laid the cod on top of the questioned Marjoram stalks and grilled it (medium) for ten minutes, skin side down, with a drizzle of rape seed oil. Perfect. Danny ate all the skins. A first.
Broad bean mash with Lemon Balm recipe
Ingredients:
400 g of super fresh broad beans
1 dessert spoonful of cold pressed virgin rape seed oil
1 heaped tsp of finely chopped Lemon Balm
1 small clove of garlic, crushed well
2 heaped tsp of goats' yoghurt (we used St. Helens, live yet creamy stuff)
1 large pinch of sweet smoked paprika
Method:
Remove the beans from their pods, and simmer until the are tender (5-15 minutes, depending on age). Plunge the beans into cold water and remove the skins.
Add the oil, Lemon Balm, garlic, goat's yoghurt and mash with a conventional potato masher (do not use a hand blender or Magi Mix – we discovered that texture sings with this dish). Add a large pinch of sweet smoked paprika to taste.
Heat the sauce gently and serve with fish, chicken, pork chops or anything that is delicately flavoured. It would also be good with warmed pitta bread as a starter.
Leave a reply