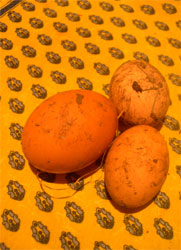 If the weather is wet or you have a chicken roosting in the nesting box, it's important to collect your eggs every morning and evening. The shells of eggs are porous and the eggs can become tainted very quickly. In wet weather, our hens get muddy no matter how much gravel I spread in the run.
The mud sticks to their claws and legs. With the exception of Mrs Boss, who tends to turn brown in wet weather. Her companion Pekin Bantam remains a glorious sparkling white. We were initially briefly concerned. Was Mrs Boss preparing for The Great Escape? After a few years, we know better. Mrs Boss has an adverse reaction to ablutions.
When chickens venture into the nesting box to lay an egg, the mud is transferred from legs to eggs. Wash muddy eggs in cold water and if they need a rub, use a throwaway towel, such as kitchen roll. If you clean out the nesting box regularly, you can easily tackle most of this problem at source. One of our hens, Garbo, has roosted in the nesting box for years.
Droppings can be a problem. We clean the coop out once a week but when I collect the eggs each morning I remove Garbo's droppings from the nesting box. An old trowel lives on the roof of the hen house. It's there for scraping out the main dormitory but comes into its own in this instance. We have a bucket with a lid in the run for collecting this stuff.
If you have everything that you need for the chickens in an accessible place in the run, you will save hours over the course of a year. Chickens are easy if you put a bit of thought into their maintenance,
My next project for the chickens is to fit guttering along the roof of the coop. They seem to prefer rainwater to tap water. They would be thrilled If the rainwater was collected into a shallow trough.
If you plan to collect water from the chicken coop roof beware of open water butts. Chickens belonging to friends have drowned in them.
Leave a reply