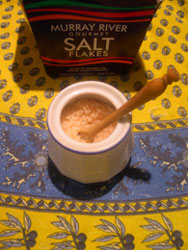 Sometimes I take a straight look at my life. I am usually rumbling along a country road, behind the wheel of Jalopy.
"I never thought that I would be breeding keets, living with an Irishman, allowing the giant spider to live in the bath."
I never, ever thought that I would be writing about salt.
I buck the system as far as salt goes. Danny has high blood pressure so we cook without salt. I have a range of salt for personal use. Low salt if I am feeling virtuous and Maldon sea salt if I am feeling wild and rakish. This was fine until Katherine introduced me to Murray River Salt.
"It's very special indeed." Katherine had a faraway look in her eyes. "Perfect with soft boiled eggs on a Sunday."
Instantly I could imagine it. I had to taste this delicacy. Luckily, their flat is just of the Portobello Road, an easy stroll to the Spice Shop.
At over seven quid for a pack, I shied at the last fence. No salt could be worth that.
"We've got loads at the flat that we bought in Australia. I'll give you some."
I expected a twist of the salt. Generous as always, Katherine gave us our own pack.
The salt is made by Sun Salt in Victoria, Australia with salt water from the Murray Basin. The water is poured into large vats and allowed to evaporate naturally. The soft, delicate melt in the mouth flakes are a pale apricot colour and make it a perfect table salt. It is worth the hefty price tag. Thank you Katherine for a perfect present.
N.B. Update
The spice shop no longer sells it but you can find it here at the Seasoned Pioneers. Danny bought me some for my birthday this year.
Leave a reply