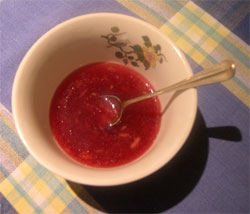 If we are busy during the week we often have baked potatoes with salad and wafer thin slices of rare beef left over from the Sunday joint. We always buy a decent sized joint of beef as it is easier to cook and the leftovers are delicious. It also freezes well. Cold meat and salad demand a tasty chutney or a really good relish to raise them from the average traffic warden fodder to the sort of dish that would tempt a petulant Roy Keane back onto the field.
My friend Carol is an energy machine and brilliant cook. She adapts and experiments with food effortlessly. She is generally in the kitchen when I visit, running up something delicious. She's a generous cook, sharing secrets, offering tantalising samples of new dishes and passing on her latest tips. Carol and her husband Patrick have just built a new house. I worked on their kitchen. A beautiful space with loads of light.
Carol's relish is hot and fruity and truly memorable. It's an excellent accompaniment to cold ham, beef or tongue. This would be great with a pork pie or strong cheese and liven up the dullest sandwich.
Carol's redcurrant and horseradish relish recipe
Ingredients (for two):
2 teaspoons of creamed horseradish
2 teaspoons of redcurrant jelly (we use our damson or sloe and bramley jelly as the redcurrants were enjoyed by the birds this year)
Half a teaspoon of powdered English mustard (made up mustard would work)
Method:
Stir the ingredients together in a bowl and taste. Alone this sauce will taste much hotter than it does with meat (who would eat creamed horseradish straight from the jar? I forgot this and the first time I served it I cut down the horseradish by half and had to add more at the table).
If you like a hotter relish add horseradish inc teaspoon increments. Add more jelly for a fruitier less spicy taste. If you adjust the ingredients remember to note your combinations down so as to be able to recreate the recipe again.
Leave a reply