There's nothing like a day out at Chelsea for titillating those gardening taste buds. Particularly if the ticket is a present and my companion is my sister. She has a good eye and a natural sense of design and balance.
Chelsea would not be nearly so much fun if I went alone. You need someone to ooh and aah with, particularly in the Great Pavilion. Here you can find the best suppliers of every plant imaginable. If you have a large budget and a new garden to make, Chelsea would be a great place to start. If you have an established garden and a small budget it is a good place to visit and look for new ideas and inspirational ways to develop and fine tune your plot.
I love looking at the show gardens. But after the first ten or so my head started to whirl. One has to be ruthless, if a garden doesn't appeal I just walk by. This saves energy for looking carefully at the ones that do appeal. If you had a few days at the show it would be different. Sometimes one learns more by looking at what doesn't work than gazing entranced at something that does work for you.
Three gardens shone for me. The Suber Garden (Chic Garden section, designed by Caroline De Lane Lea and Luise Cummins), The Thomas Tellford Toll House Garden (Show Garden section – Telford and Wrekin Council. Designed by Michael Vout and Chris Jones) and Scent of a Roman (Show Garden section – Leeds City Council, Parks and Countryside Service. Designed by Denise Preston).
Unfortunately I don't have a photo of The Suber Garden but you can take a peek here http://www.bbc.co.uk/gardening/flower_shows/chelsea_2007/smallgardens_suber.shtml
This garden was small yet exquisite. The intimate, sophisticated space celebrated the uses of cork as a natural, environmentally friendly material in the garden.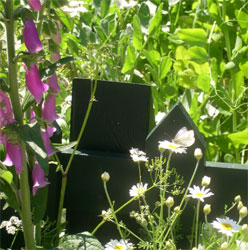 The path in The Thomas Tellford Toll House Garden divided the plot in two. One side was planted with flowers and the other was filled with decorative rows of vegetables, herbs and fruit. The garden was contained by a picket fence. Beyond this fence the ground was filled with wild flowers. The local insects were having a ball. I was amazed to spot bumble and honey bees, butterflies and moths. It really underlined how important our wildflowers are for native insects. You can glean more information about the garden here
http://www.eladvertiser.co.uk/news/telford-s-silver-garden-1.197807
Scent of a Roman was the overall best Show Garden for me. It just worked. I returned to the garden three times. Just to dip my toes and let the garden wash over me. On a boiling hot day, the effect of this garden was magical. The tramping crowds and city noise disappeared. This garden calmed me. I forgot the train, the hordes, the tube, the dusty pavements and the overwhelming urgent rush to see everything. It was perfect. Just what a garden should be.
I returned home at dusk and took a stroll around our garden. John Coe had carefully cut the box hedges this morning. The bees were still flying and the fish waiting to be fed. Chelsea is a wonderful day out but you can't beat a late potter in your own greenhouse and the cluck of your chickens as they settle down to roost for the night.
Leave a reply