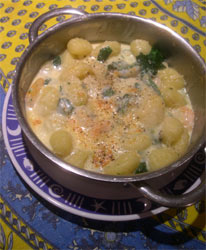 I have been enjoying my friend Clare's food whilst battling with the wallpaper in her sitting room. Clare is the sort of cook that rustles up something delicious without a huff or a puff. The execution is seamless and the results always delicious.
If I work in Saffron Walden I tend to start my day later and return home mid evening and tired. The combination of wallpaper glue, step ladders and the drift of wonderful wafts from her kitchen at around six thirty always had me wilting and longing for an injection of food. Any food.
Every evening she'd prepare a small "taster plate" for me. Each was tantaslisingly good and scoffed in seconds. This evening plate set me up for the drive home but I longed to linger and just talk about her food.
Clare didn't make this gnocchi dish when I was wallpapering but she had the ingredients and talked about it so much that my taste buds had to be salved at home this evening. She used cooked prawns for her dish. I found uncooked ones in our freezer (highly recommended by C).
Danny isn't keen on gnocchi. I find this bizarre as he adores potatoes and this pasta should be an Irishman's dream. As he was away this evening I decided to indulge myself and move on from my cheese on toast recipe that usually keeps me company in his absence.
Simple, stunning, chic and unbelievably tasty, this dish is a perfect balance of flavour and texture. The dogs didn't get a look in. I licked the plate.
Really quick to prepare and cook. Great for a busy person who wants to eat a great treat dish, made from scratch in under 20 minutes. Even better for a supper party when you know that you will be pressed for time and you want to serve an effortless winner.
Clare has been given this as a starter in individual ramekins and as a main course in a large entrée dish to share.
Clare's scrumptious spinach and prawn gnocchi recipe for 3 – 4
Ingredients:
500g of gnocchi (I bought mine ready made)
400g of uncooked prawns (frozen are fine but defrost before use)
200ml crème fraîche
300g of fresh spinach (washed)
3 tblsp of finely grated parmesan cheese
Ground black pepper to taste
Method:
The first three elements are prepared simultaneously. It is easy if you are hungry enough.
Throw the gnocchi into a pan of salted boiling water. After 2 or 3 minutes they will rise to the surface. This means that they are cooked. Remove with a slotted spoon to a warm place.
Meanwhile heat the crème fraîche over a gentle heat. When it starts to bubble, add the uncooked prawns and 2 tblsp of the grated parmesan (my twist) and stir until the prawns turn pink. Remove with a slotted spoon to a warm place. If the creme fraîche hasn't thickened turn up the heat and stir constantly. Remove the sauce to a warm place.
Meanwhile 'wilt' rather than cook the washed spinach in a large saucepan and drain thoroughly.
Set your grill to medium/high.
Line an entrée dish with the wilted spinach, add the gnocchi, pour over the prawns in crème fraîche. Push the prawns down under the gnocchi so they will not become rubbery when exposed to the heat of the grill. Scatter the remaining parmesan over the surface and grill until the cheese turns golden brown.
Add a good lash of ground black pepper and serve with some chilled white wine and crusty French bread to soak up the juices.
Leave a reply