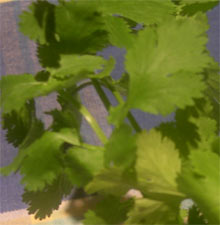 Our old friend Richard introduced us to Bill Granger. We didn't actually meet Bill but tasted his recipes and were instantly drawn to his books.
Seductive photography and great copy. Sometimes Bill hovers behind a dish, looking calm and relaxed with just the right amount of sun. There is never a hint of a chilly English winter – it's Australia after all and Bill doesn't need to pull on a double knit.
These are the perfect books to turn to if the weather is too warm for wintry food but too brisk for a chilled gazpacho.
We recently discovered that houmous, topped with a light pesto is an excellent combination. This morning the sunny day inspired me to run up this houmous recipe from Joanna's Food. It took ten minutes. I found the remains of a jar of really delicate Italian pesto in the far reaches of the fridge.
For my solo lunch I made delicious, layered oatcakes (Mike's invention, he uses his 'egg box' crackers). Cottage cheese, houmous, thinly sliced tomato topped with a half teaspoonful of pesto.
Driving back from Saffron Walden this evening I had a brainwave. There's a large jug of coriander sitting on the kitchen windowsill. Why not turn it into an amazing coriander pesto?
Imagining the wings of Escoffier brush Jalopy's windscreen I thundered back ready to share my inspiration with the world.
"If this works it'll be great with chicken, fish, baked peppers and as a topping for houmous or even soup!"
A tremulous step onto the internet showed me that over three hundred thousand people had already discovered the idea. I skimmed though a few recipes for combinations of ingredients and my head whirred. Finally I found this recipe from Bill Granger – it uses cashews rather than pine kernels so it instantly appealed as I bought some on whim a couple of weeks ago.
I played with his recipe. Used the top half of the stalks as well as the leaves, dropped the chilli pepper, added more lime juice and olive oil and finally added a small amount of parmesan cheese. I am delighted with the result. Summery flavours and so enticing that I've had to put it away in the fridge, out of easy reach. My version is below.
Coriander and lime juice pesto recipe (inspired by Bill Granger)
Ingredients:
60 g fresh coriander (cilantro) leaves and the top half of the stalks
80 g unsalted cashew nuts, lightly toasted and roughly chopped
10g of garlic chopped
15g of grated fresh ginger
6-8 tablespoons of olive oil
4 tablespoons of fresh lime juice
25g of finely grated Parmigiano Reggiano
Sea salt
Freshly ground black pepper
Method:
Place the coriander, garlic, cashews ginger and parmesan in the food processor and blend. With the motor still running drizzle the lime juice and enough olive oil to give a smooth consistency. Add a little salt and lashings of ground black pepper. Store in the fridge with a little olive oil on the surface to keep it fresh.
Leave a reply