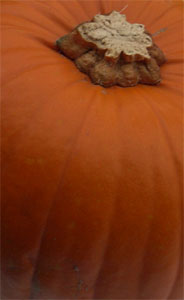 This pumpkin has been languishing on the windowsill for the last week. Not waiting to be changed into a coach for one of our min pins but to be transformed into a vicious head to ward off the Halloween daemons. Halloween has become a vast industry in Britain. Party and toy shops bulge with decorations and the means to disguise the most innocent looking toddler into a vampire, witch or the sort of half eaten zombie that would not be welcome at your average convention of ghouls.
The children in the house where I'm working have already bought the basics for October 31st. Occasionally one creeps up behind me as I work and tickles my neck with a plastic scythe, the skull mask that looms behind it is truly disturbing. Danny and I add to this multi million pound industry when we remember that it's Halloween and rush down to the village shop to stock up on sweets for trick or treat. Danny spends the evening praying that no child will visit and he can eat the sweets.
The best thing about Halloween for us is pumpkin soup. My friend Clare gave me this recipe that she adapted from an old vegetarian cook book Entertaining with Cranks.
This is the best pumpkin soup I have ever tasted, so it appeals to vegetarians and hardened carnivores alike. We use the soft parts that have been scooped out from the pumpkin head.
Recipe for Cream of Pumpkin Soup (serves 4-6)
Ingredients:
2 lbs/900g of pumpkin (peeled, seeds removed and chopped)
I large onion (roughly chopped)
1 large potato (peeled and chopped)
1 large carrot (peeled and chopped)
1 stick of celery (chopped and thick strings discarded)
1.5 pts/700 ml of vegetable stock or add two tsp of marigold powder to the same amount of water.
1 vegetable stock cube
1oz/25g of butter
half pt of cream
2 tbl spoons of chopped chives to garnish
Salt and pepper to taste
Preparation time 25 mins
Cooking time approx. 30 mins
Method:
Melt the butter in a large heavy bottomed saucepan and add all the vegetables.
Cook gently for 5 mins, stirring occasionally. Don't allow the vegetables to brown.
Pour in the stock and add the stock cube and stir.
Simmer gently until the vegetables are just cooked (about 20 minutes) and then purée with an electric blender.
Return the puréed vegetables to the saucepan and season to taste. Add another 1/2 tsp of Marigold if it needs lifting.
Add the cream and re heat very gently and thin with more stock if necessary.
Sprinkle with the chopped chives and serve.
Tricks and tips:
If you plan to freeze this soup do not add the cream until you defrost and serve the soup
The soup can also be made with butternut squash instead of pumpkin
Update October 2009: We have a brand new pumpkin soup recipe here.
Leave a reply