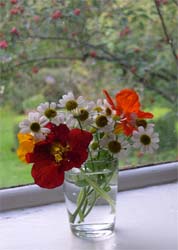 I was surprised to hear recently, that dandelions are one of the largest sources of nectar for bees in the spring. So now I don't feel quite so guilty about leaving them be and only snapping their heads off just before they go to seed. Like most people, I find weeding out enemies with deep roots to be a slow and boring process. I always start the year with good intentions but gradually am drawn into other self sufficiency activities and the weeds then flourish. The feverfew in the photo self seed prolifically, and many consider them to be a weed. We don't suffer from migraine but we love the perky flowers.
My Grandmother used to say, "One year's seeds, three years weeds", and although I know she was right, weeding has never become a habit with me except, of course, in the vegetable garden. I use a hoe between the rows and can quickly dispatch my enemies. There is also an element of fear. John Coe, who helps us in the garden is passing on 50 years of vegetable growing tips and would be cross if I let the vegetable patch go to seed. On arrival, after a gossipy mug of coffee, he strides down the garden to inspect.Today there are very few dandelions in the garden.
Last summer I discovered that our chickens love eating dandelions and I would pull them up as I went through the garden to the chicken run. Carol, our Maran hen, thought that they were particularly tasty. This spring I collected a bucket full of heads to make dandelion wine and this must have dented the dandelion population. It took ages and I had to search all over the garden to find enough for the recipe. So what with the wine and the chickens, the poor bees will have to fly further afield to get their dandelion fix or make do with the buddleia and second flush of campanula that brighten the garden at the moment.
Tips and tricks:
If you are going to collect dandelion heads for winemaking, pick the heads when the sun is on them and they are fully open for the best flavour. Midday is probably the best time.
One fresh leaf of feverfew a day is said to help migraine sufferers.
Leave a reply