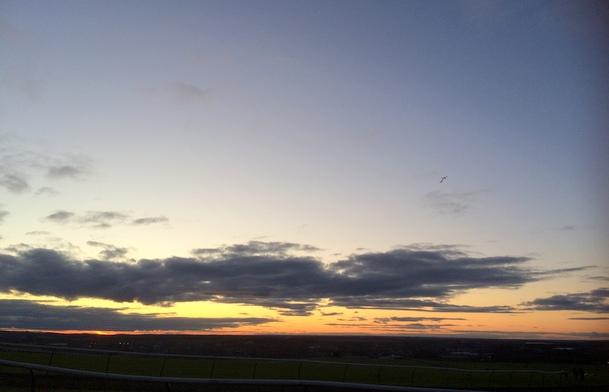 This is the few minutes of dusk before visibility fades, In the UK we call it dusk.
I've always thought that the French term 'Day for Night' perfectly describes this wonderful transition. The word dusk just doesn't encapsulate the magical quality of this fleeting experience of light and shadow.
In January it probably only lasts for twenty minutes at the end of the day.
I often find myself stepping into this beautiful and delicate time of day as I take my dogs out for their last decent walk.
After a bright clear day the skies can be stunning.
The dogs are nervous of total dark but are happy to run and sniff and throw themselves into the heart of their joy during the final minutes before nightfall.
It's almost as if they actually want to wolf down these precious heady moments of natural light. And I do too. The quality of light has a tentative and mysterious quality that I value more than diamonds. This is one of the essences of the true power of nature.
The strange quality of light always reminds me of old cave ancestors. Rushing to finish light fuelled tasks while, perhaps, the elders lean back and gently breath in the beauty of the sunset.
I love this brief passage at the end of the day. It is there every single day for you too.
Leave a reply