(Written mid February 2007 and discovered when considering my waistline and searching for decent soup recipes on the laptop today. Inca poses with a twelve inch pocket tape measure.)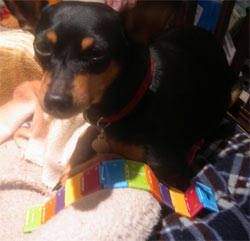 Listening to the reports of the London Fashion week and the sizes of models. D and my sizes were not mentioned. I wasn't surprised as we are drifting fast into the cuddly range that means clothes cling to our bodies rather than drop enticingly from the slimmest of shoulders.
Before today, I hadn't realised there was a size 0. In the UK, this is equivalent to size 4. I'm pretty sure that I've never met anyone who is size 4. Danny says that I probably have, they just blended in with the table legs.
I'm not planning to downsize to 0 even though this would make life a lot easier in many ways. We've run out of clothes that fit. Either we roll into Newmarket and trawl the XL section of the racks of TKMaxx or we wobble off a bit of weight and delve into the wardrobes upstairs.
I'm going to bite the bullet and donate my doorstep sandwich recipes to a worthy charity. I'll start exercising by dusting off the soup pot. If we have soup or salad for lunch we can drop a dress size in a month, even though Danny always refuses to slip into a dress to prove how much he has slimmed down. He prefers to model his Matador trousers and flamboyantly tussle with the Min Pins.
Soup for lunch has a dramatic effect on our waistlines. Within months we can wear our Wellingtons as body armour and tackle all the things that only ultra slim people can do, such as personally clambering through the plug in the sink and clearing a blockage. My last foray into this quarter had me reaching for the double cream immediately. Fatties drift about in a bulgy sort of way. Thinnies always have to prove how slim they are.
So this year*, we are going to be moderate and just make soup for lunch, which we plan to consume rather than relegate to a life forgotten in the freezer.
*Clearly it didn't work in 2007. We are having another go in 2008 as D is concerned about the plumbing.
Leave a reply