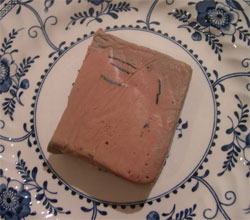 If you want to treat yourself to something very special indeed, take a bus to Borough Market and find the stall that sells truffles and truffle infused pâté. The stall is situated in a small enclave of ten or so stands and is located at the opposite end to the Boston Sausage stall (also excellent). As the truffle pâté stall was the first of many that we spotted in our food day out, I stupidly didn't take the name of the stand. Perhaps someone out there can help?
We sampled their chicken and truffle pâté and Danny gasped with joy. It's a bit lighter than the duck but melted in the mouth with a teeny truffle kick. I am wanton when it comes to duck liver pate so we finally settled on that and invested a fiver in 100 grams of heaven.
It's very rich so 100 grams goes a long way. Spread this duck pâté on thinly sliced crusty bread and luxuriate. A perfect, rounded indulgence.
Leave a reply