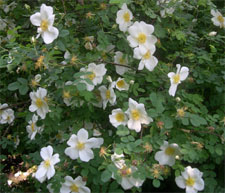 I got home this evening feeling a bit grumpy. On the run up to Christmas I generally work a six day week. Everyone wants their work finished by Christmas. At the start of November, this is fine. Just a distant date. By now things are hotting up. I have four clients on the go and promises have to be honoured.
Jalopy and I returned late tonight, with no post in mind. The Min Pins were fighting over an organic carrot, filched from the vegetable bag. Great Aunt Daisy Beatyl was asleep and Danny greeted me at the door.
I was delighted to see that I had been tagged by Fluffius Muppetus. An innovative blog with good gardening posts and podcasts. I am fascinated by her grow dome. I have seen it materialise slowly to become an edifice of beauty. And useful too.
The only problem was the subject of the meme. I didn't have 8 happy thoughts. Danny was practical as he tucked into his soufflé.
"Eight? It should be three! Get a pen and paper. Are you sure that you need 8?
The rules for this meme are as follows:
When tagged, you must link to the person who tagged you. Then post these rules before your list, and list 8 happy things about yourself. At the end of your list, you must tag and link 8 other people.
8 happy thoughts
Danny greeting me at the door. We try and do this as it makes everyone feel good. Sometimes we just don't hear the other's car reverse into the drive. If you are welcomed home you quickly forget the travails of the day.
Our own flock laying eggs. They are off lay at the mo' but come January we will be collecting warm eggs for breakfast.
Picking and eating a few fresh raspberries straight off the canes in November. I did this last week.
Cleaning and refilling the bird feeders and waiting for 5 minutes until the birds realise that the restaurant is open and the shrub is filled with birds again.
Eating the Brie de Meaux that Jocelyn and Miles bought from a great cheese maker in France and that I collected yesterday. As it deteriorates very fast we have the excuse to pig out.
Having our hair cut at home! It's cheaper and companionable. When my hairdresser, Phillip, retired I decided not to spend a morning getting my hair cut. Elaine cuts our hair in the evening. Keenly observed by the Min Pins.
Reaching for a bottle of wine. Opening the bottle of wine and quaffing.
A greenhouse packed with scented geraniums, pelargonium and tender fuchsias. With a bit of luck, they will survive the winter to enjoy another summer in the garden.
I have tagged these eight blogs (in no particular order)
Leave a reply