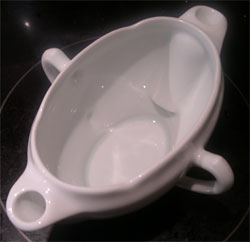 I couldn't do without our fat and lean gravy boat. It's cleverly designed so that the lean gravy is drawn from the base of the boat. The fat can easily be poured off from the fat spout. A few weeks ago I was struggling to skim the fat from a stew. There was no time to chill the dish in the fridge overnight and remove the fat easily. In desperation I thought I'd try using this gravy boat. The experiment worked. The gravy boat was immediately promoted from ceremonial mascot – merely gracing the Sunday lunch table, to Chef's ADC with total responsibility of removing fat from sauces, casseroles and stews.
I am now looking for a larger one, not just to keep the half pint one company but a beefier one would be very handy. It only takes a few minutes for the fat to float to the surface. Excellent.
Amazon sells a fat and lean sauceboat
. A great investment even if you only use it for gravy and a good present for anyone that's keen on cooking. Lakeland have a more basic but practical one here.
Leave a reply