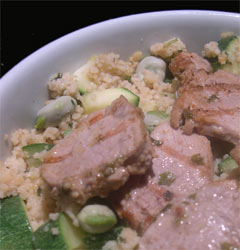 Fillet of pork is so tender and succulent but sometimes it can lack flavour. Danny bought two packs of medallions from the condemned food counter at Tesco and fried them in a little black butter. He sat down to savour this delicacy with a small proud wobble of his head. Within seconds there was a roar.
"They taste just like blotting paper!"
When I found myself with a pork fillet to cook, I remembered the shrieks and made a marinade. I used loads of fresh herbs for this. We had a great tip from some friends who used to run a restaurant (so successful they could retire at 50!) Put your meat in a plastic bag with the marinade and fold it tightly around the meat and put in the fridge. The meat is infusing the marinade it all day. There's no need to turn the meat. And the results are spectacular.
Our fillet of pork sat in a lemon, coriander and chervil marinade for 8 hours and was transformed. Thinking about it now, I reckon that buying fillet of pork sliced into medallions was probably a mistake. They look pretty but must have dried out considerably by the time that they finally reached the condemned food counter. Our whole fillet was marinated as a mini joint and then sliced just before frying. This wasn't proper frying – I used the griddle pan as I thought that the nifty stripes would look good. The flavour was on the edges of the meat. Just enough to enhance the centre of each medallion.
There were purrs from the opposite side of the table.
This is a quick and easy recipe and classy enough for an intimate supper â deux.
Fillet of pork medallions on a herby bed of courgette and baby broad bean couscous recipe
Ingredients:
The marinade:
Good handful of fresh coriander and chervil chopped fine
1 heaped tsp of ground coriander
1 tblsp of olive oil
Salt and pepper
Juice of half a lemon
1 fat clove of garlic chopped fine
Main recipe ingredients:
I fillet of pork
250g of dried couscous
400ml of chicken/pork stock (I used a cube)
Good handful of fresh coriander, chervil and mint chopped fine
Knob of butter for the couscous
1 courgette chopped
Large handful of podded broad beans
Olive oil for frying (dessert spoonful)
Method:
Prepare your vegetables and steam them for just four minutes. They need to be crisp as they will continue to cook in the couscous.
Put the couscous in a bowl and pour over the boiling stock. Stir in the herbs. Cover and leave to infuse for about five minutes.
Meanwhile heat the olive oil in a frying pan and slice your medallions (3mm thick) when the oil is just starting to smoke toss in the medallions and marinade. Sear each side for a few seconds and then turn the heat down(moderate) and cook for about 2 minutes each side. When they are no longer pink inside the are ready.
Meanwhile, taste the couscous and add a knob of butter and salt and pepper. Fluff up with a fork and stir in the vegetables.
Serve the pork on top of the couscous, on warm plates with some good dry white.
Leave a reply