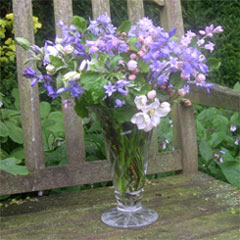 "Please ring me when the apple blossom opens."
Years ago, this was my mother's plea. She always came to stay at the cottage in the spring to paint the apple blossom. She's a talented water colour artist. In the autumn Mum cooked vast batches of apple puree and filled the freezer with small boxes, so we could enjoy apples throughout the winter months. It seemed a perfect circle.
Things have changed since then. It was a weekend cottage for me and my mum stayed during the working week. A perfect dovetail for peple who need peace and quiet and time to drift. Ofen we brezed in and out without even seeing each other. I'd know that she'd visited from the posy of flowers on the table.
We had many more apple trees back then. Several have been lost in bad storms and John set light to a couple – they were too near his bonfires. A favourite tree that used to be my mum's parasol, when relaxing with the paper on hot afternoons, succumbed to honey fungus.
We have two ancient trees left. One is a living safety net that is now supporting a sturdy length of poplar – whipped off one of Anne Mary's trees in a recent storm. That old cooking apple tree is damaged but fighting on valiantly.
I examined it today. Lying horizontally, the flowers were on my level and I was able to observe them from a different perspective. The chubby buds are as pretty and promising as the soft gentle flowers. When I smelt the sweet, dreamy scent, I just had to pick some to take inside.
The bluebells are always wonderful in the garden. A magical bulb. Our variety has dainty flowers and has spread into the wild areas. Mainly blue, but we have a few pink and white cousins. They lurk in the darkest corners and always delight me when I find them. They must have been here for generations.
Leave a reply