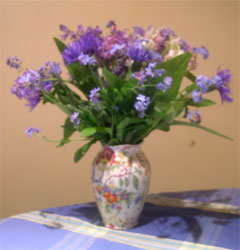 Yesterday it was the birthday of the two Carols in my life. My friend Carol and her namesake, Carol the chicken. As my pal doesn't have chickens at her new house I thought she might like a box of fresh organic eggs to celebrate her big day, we had three in the larder and another three in the nesting box. This was perfect as two large brown eggs had been laid by Carol.
I also found a chicken card in our desk and signed it with the sort of signature that I thought Carol (chicken) would like. A Heavy, ponderous claw. I jumped into Jalopy and rumbled over
Carol welcomed me in just as she was peeling boiled eggs. A combination of duck and chicken eggs for an unknown but I'm sure, spectacular dish. She shrieked when she saw the egg box. Carol has loads of charm. She examined each egg in turn. Delighted with every one, in particular her namesake's. She exclaimed over the size of the teeniest bantam egg.
The conversation turned to flowers and their cost. I filled her in on my flowers from the garden challenge. Like me, Carol always has flowers in her house. In the past mine were always bought flowers. Carol is more ingenious, combining bought with wild, silk and from the garden. Her arrangements are always interesting and full of life.
The flowers from our garden have a softness that we had never really noticed before. Until now I have had a rule that garden flowers stay in the garden. They last much longer if they are not picked. It still hurts picking them. But this evening when I was out picking flowers in the front garden I was amazed at how many flowers were there. I picked this bunch and did not leave a dent in the abundance out there. I hadn't realised how many spring bulbs we have at the cottage.
This month, when I have been working in our herbaceous borders and cutting back the shrubs, I have brought discarded in-bud greenery indoors. I created a good sized arrangement with stuff I would normally throw away. Philadelphus (P. Burfordensis) I knew for years as mock orange. It worked very well in combination with Bridal veil broom (Retama monosperma).
Carol mentioned that when she visited her daughter for lunch the day before, there were two large vases of Forget-Me-Not on the table. Apparently they looked stunning. I love this little blue flower. It's all over our garden at the moment. When Carol told me this story I cringed because I had pulled out masses from a border and unthinkingly chucked them on the compost heap just the day before. Trying to change doesn't just mean sticking to the new challenge. It's thinking on my feet as well.
I have included a few in our flowers for April bunch, This vase holds Bluebells, Whitebells, Pinkbells, Cornflowers (just out) and Forget Me Nots.
Leave a reply