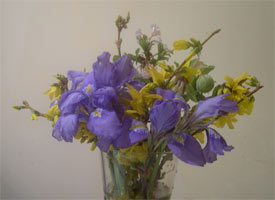 I was thinking about the joy that not buying flowers has given me over the past year. It has forced me to look at the world in an entirely different way.
I now treasure the flowers that I grow and enjoy those that are living elsewhere – generally a fleeting glimpse from Jaolpy's driving seat as we pound towards the job that day. At the moment there are pools of tremulous snowdrops, polyanthus and primroses. The daffodils are opening and it's only February.
Flower spotting on foot is a much more satisfying pursuit. The dogs are forced to let me stand and gaze occasionally. When we eventually move on, they follow satisfying scents of a doggy nature as I examine the banks for wild flowers and clues for future foraging.
Today we were engulfed with a waft of such sweetness that we all instantly stopped and gazed up. Plum blossom stretched out on a filigree of branches beneath an azure sky. And deep in those branches a bird was singing. Exquisite.
In the human sized vase we have Forsythia (Forsythia x intermedia Lynwood Variety), Iris sibiricia, Viburnum (Viburnum x bodnantense Dawn) that has delighted me for months now. There are also branches of Wintersweet (Chimonanthus praecox) and the cool green flowers of the Stinking Hellebore (Helleborus foetidus).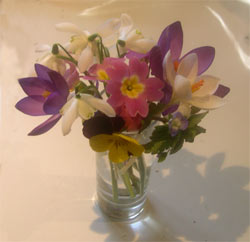 The freshness of the doll's vase is much more appealing. There are purple and white crocuses, two petulant pansies, polyathus, double snowdrops (I didn't count them Clare!), a bud from the china rose, the first blue scilla and speedwell that I found on my morning walk. I was running late so the name speedwell carried the perfect wish.
I examined the tiny flowers peeping up from the rounded leafy collars when I got home. Quite perfect.
Leave a reply