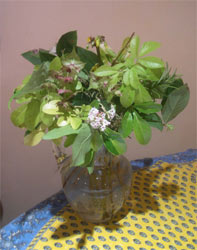 This is the start of the second year of not buying flowers and just picking flowers from the garden.
In January 2007 I decided not to buy flowers for the house for a year. Having been a rather extravagant flower buyer for decades, this was a testing challenge. Especially when I passed a flower shop or supermarket display.
Danny bought me an occasional bunch but as the months went by I began to prefer the flowers cut from the garden. They have a softness and a charm that is rarely found in commercially produced flowers.
Having been an avid flower grower in the past my focus had gradually drifted to the kitchen garden and all things edible. Suddenly, the thought of flowerless days had me overhauling the herbaceous borders, cutting back shaggy shrubs and adding more perennial plants.
Although perennials are an investment, flowering year after year, I didn't want to spend wads of cash on plants from Nursery Gardens. So I stopped at wayside stands and kept my eyes peeled at fetes. My favourite plant stall is the one outside the Secret Garden, in Fordham. Everything from there has flourished. Lovely old fashioned flowers that have transformed the garden and given us enormous pleasure. Although the financial investment has been small – barely £25 pounds in total over the year, the impact has been massive.
Somehow these plants seem more precious too. The snowdrops that I bought from a stand in Debden last Spring are just beginning to open. When I look at them I remember that sunny, blue sky day when I stopped and bought them. I wondered about the gardener who had put them into pots to be transferred and loved in other gardens.
This year's posts have a new twist. There are so many tiny flowers that were just too small to qualify for the vase of the month last year. So this year there will be two vases of flowers for each month. Human and doll sized for those tiny flowers that get lost in a big vase.
The human vase contains Choisya ternata Sundance (pruned a week ago), Chimonanthus praecox (Wintersweet), Lonicera x purpusii Winter Beauty (Winter honeysuckle), Forsythia x intermedia Lynwood Variety, Viburnum x bodnantense Dawn, Sliver King variagated holly, and a lovely shrub that I have forgotten the name of with a fountain shape and small clusters of pretty flowers on the tips of the stems. I also put in two rosemary stalks. A rather straggly bunch but it smells heavenly.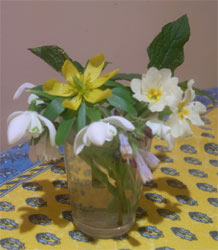 The doll's vase contains a sprig of Forsythia, some polyanthus that were here when I moved into the cottage. There are also snowdrops, single and double and Pulmonaria 'Mary Mottram', with pink and blue flowers on the same plant. A single aconite. I love these bulbs – these are the first sign of Spring in our garden and survive everything – snow, frost and ice. A Boudicca of bulbs.
Leave a reply