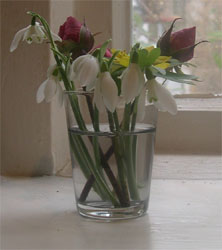 Driving to the supermarket to do the Big Shop on Sunday I worked out that we spend over £500 a year on flowers for the house. A chilling thought as I love flowers. A house without flowers just doesn't sing. As I squeezed the car into a tight parking space I hoped that an excuse to continue with this magnificent expense would come to me. It didn't.
As I strolled with my trolley, I'd decided that it might be fun to try and find flowers for the house from the garden. This is the first post in a series of twelve, one each month until December.
If I put the money saved into a Min Pin proofed tin for a year we could prise open the lid and treat ourselves to
a weekend by the sea.
an elongated dinner at Le Manoir aux Quat'Saisons
a hefty bet on the Grand National
Admittedly this is not the best time of year to be venturing out with a pair of secateurs and a hot Min Pin (Inca always travels with me on my forays into the garden). After ten minutes I found the elements for this tiny posy. Rose buds, snowdrops and an aconite that opened like a star.
This end of January resolution is already paying off. At this time of year I don't usually look at the detail in the garden. My mind is set on the job in hand – feeding the chickens, checking the ponds and the two bee hives (are any bees flying?). The bees seem to be thriving in this mild winter. They were on the honeysuckle by the front door yesterday morning.
Yesterday I noticed tiny details in our garden as I searched for flowers. Bulbs and buds appearing and a long list of jobs to be done. These can easily be tackled in an hour at the weekend and if they'd been left for another month would have developed and grabbed an entire weekend. I was feeling pretty good – in a thrifty sort of way.
Despite this, I missed my large vase of flowers and was considering putting this posy under a vast magnifying glass for a bit more impact. Suddenly everything changed. Danny invited an old friend to stay. He arrived with a pretty bunch of flowers. In an instant he was my friend too.
Leave a reply