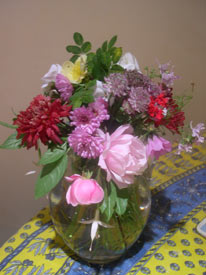 When I saw the clever fireworks post on Purple Podded Peas I felt inspired to rush out and see what was flowering in our garden. I must admit I wasn't dazzled by our display but I managed pick this little old fashioned posy. The sort of bijou arrangement that I imagine would sit on a side table in a Dicken's novel. An incidental backdrop to the plot.
The Flowers from the garden posts report on my progress since I decided not to buy flowers for the house in January 2007. I have managed to avoid buying cut flowers from supermarkets, markets, wayside stands or even from a friend for eleven months now. At first it was really hard. I love flowers and used to spend around 10 pounds a week on them. My rule, back then, was not to pick flowers from the garden. They were part of the garden and to be enjoyed in situ. Also uncut, flowers last so much longer.
So when I step out with my secateurs alarm bells still ring and I feel a bit of a devil picking anything.
This is a two part exercise. Saving money and discovering the bounty lurking in the herbaceous borders and garden pots. Over the past year, I have splashed out on perennials for the garden. I haven't hoovered the credit card, hired a pantechnicon and headed out to the nearest nursery garden. Although there have been moments when I would have loved this foray. The outlay has been a maximum of a fiver a month but generally just couple of quid. This meant keeping my eyes peeled everywhere I travelled. In February, I found a plant stand in Debden and invested in pots of snowdrops for the front of the cottage. We have small patches. In the future I'd love to have drifts.
Once a month Jalopy and I rumble off on a 12 mile trip to buy a sack of chicken food. I always stop at the stand outside the secret garden and buy 6 plants for two quid. On Sunday I bought a little rose, an aquilegia (hopefully not pink, like all our other aquilegias – the other colours have died out over the last ten years), three digitalis grandiflora and a tiny yew which I plan to plant in a focal point and eventually cut into a good topiary shape. Plants from this stand that I bought last Autumn have already given us pleasure throughout the summer. They are good, strong plants with minimalist labels. I love the mystery and, having seen the secret garden, the plants from this stand have the green light for me.
This November posy contains a very pretty china rose that flowers, even in a cold winter, right up until Christmas. The little yellow rose behind is Canary Bird, which shouldn't be flowering now and was a bit of a surprise. There is a pretty pink Chrysanthemum (bought from the Debden stand) and a rougher burgundy coloured Chrysanthemum (from the secret garden stand). The last pink cosmos (seed pack 19p from Netto). Some nemisia from the summer barrels at the front of the cottage and a few of the white geranium retreads from my mother's Cambridge window boxes (2006). Anna's present of astrantia major is still going strong, and you can see it nestled behind the Debden Chrysanthemum. Beside the astrantia I have added red verbena from the barrels at the front, just for fun. I like the pink/purple/red offset of colours. The final star is a very pretty, delicate pink fuschia – a present from our friends Jocelyn and Miles. It has loved the wet summer and is now a giant amongst shrub fuschias. It may have to be moved.
Leave a reply