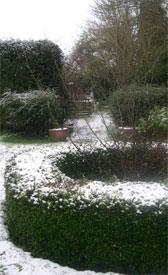 When I came to the cottage fifteen years ago there was basically a large field at the back with a leylandii hedge along one side, a few shrubs, a small pond and a lot of grass. It was romantic in a way when I opened the back door but the mowing was a killer and I fancied a bit more variety.
Back then I was reading the tomes of the Great House garden writers: Christopher Lloyd, Vita Sackville West, and my all time favourite garden designer Russell Page. I had also visited Hidcote Manor and had been completely bowled over by this fabulous garden and was reading anything I could lay my hands on about its creator, Lawrence Johnston (sadly very little, at the time). These gardeners created amazing architectural gardens for splendid country houses. On sleepless nights I would plan amateurish versions of their structured hedging, vistas and rolling landscapes. Then in the morning, I'd open the back door and peer out at my bare bones patch. Eventually, I realised that unless I up-sized to Blenheim my 3 a.m. plans would just not work.
Being a novice gardener, I bought more gardening books. Friends were helpful, "Why not have a totally wild meadow garden. Low maintenance. Great wildlife," was an enthusiastic, recurring response.
I was on my own at the time. My garden was more than a friend. The relationship was intimate, passionate and totally engulfing. I stopped discussing the garden and secretly plotted a masterpiece.
Of course it never happened. But gardens, like garden centres are packed full of hopes and dreams. And mine is a burgeoning example That's why I'm out there in every spare moment, tweaking and planning and dreaming. A decent garden, is never finished. That's what draws you back again and again. Although nowadays, the wildlife absorbs me as much as the garden.
The one thing that I think I got right was dividing the plot into compartments. A year or so after I moved in, I finally twigged that hedges form a great backbone in a garden. They can create mystery, contain areas and screen others. In fact they can control how the garden is navigated and reveal each surprise at the perfect moment.
I ripped out the leylandii hedge and burnt it to the accompaniment of horrified shrieks from friends and relations as an ancient corrugated iron fence was revealed. I disguised this with 80 feet of sturdy trellis and attended to the rest of the field. I planted mainly yew hedges and a few of beech. Some borders within the perimeter hedging were enclosed with box.
Within five years the yew was over six feet and John Coe started the annual August hedge trimming. Coming from the old school, he cuts the hedges by hand. This gives a cleaner, less ragged look than an electric trimmer. I do hope that the hedges appreciate this loving care as much as the birds do. They nest there, in large numbers.
Leave a reply