Katherine is the only daughter of an old friend. We loved her from the moment that we met her. She is one of those rare unforgettable people that subtly tugs and expands horizons. Once met never forgotten. She sparkles even when she is not dancing Flamenco.
Katherine Dodd and Paul Arguile (totally sound and a brilliant, intuitive and questioning chef) are getting married and emigrating to Australia in the Autumn to set up a café deli in Adelaide. Although we know that this is the perfect leap we will miss them enormously.
Adelaide Central Market by Katherine Dodd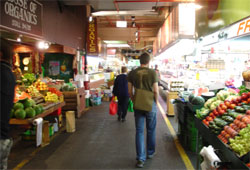 I love to visit food markets. London has its fair share of good ones, the best of which Paul and I recently had the pleasure of sharing with Fiona and Danny (Save Borough Market, sign the petition now – see Fiona's 18th March posting!).
Markets have loomed large in my life; I was born near Tsukiji fish market in Tokyo, which my uncle visited on early mornings each week to get the best ingredients for his tsukudani shop. I spent school holidays walking through the pungent and raucous Stanley Market in Hong Kong with my mother and back in 2005, had my first date with Paul in Portobello Market. Most recently, Paul and I visited the Adelaide Central Market, in the heart of the city we plan to make our home.
May I, at this point, express my awe at the quality of food I experienced in Sydney and in South Australia. Sydney, yes, is a large city full of great restaurants, home to Bill Granger's and Sean Moran's eating establishments. But Adelaide was something else. Despite suffering its worst drought in decades, South Australia offers the most extraordinary range of high quality produce. Paul and I drove around the Barossa Valley one day, visiting different wine makers. Of these, Two Hands was the best; their 2005 Aerope Grenache was extraordinary. Anyone who thinks Australia produces nothing but over-the-top Shiraz is short changing themselves.
With such fine wine available in the area from the Barossa Valley and McLaren Vale to the Adelaide Hills and Plains, it's not surprising that food expectations are high. There are some superb places to eat in Adelaide and they are wonderful because of the fine ingredients the chefs use as the foundation for their adventurous, confident and delicious menus.
Early in the morning of our last day in Adelaide we visited the famous Central Market in Gouger Street, where we viewed these ingredients in fine array. Laid out in glorious technicolour, the fresh produce offered itself as a visual feast; an abundance of fruit in rainbow colours, fresh crisp greens and mountains of sweet and pert tomatoes. Creamy roundels of soft goats cheese, salty pretzels, whole peanuts, fat salamis, pistachios, dried apricots, pheasant pates, fresh ground coffee, chutneys, toothsome cakes, warm baked bread¦So many luscious aromas easily prompted a rumbling stomach, but – no worries mate! – the food stalls are encompassed by a hug of cafes, bakeries and stalls offering a United Nations of cuisines. We headed for a breakfast bar.
The Australian breakfast is magnificent, worthy of an entire guest spot of its own. Paul scoffed a huge bowl of home-made muesli topped with fresh curds and soft red berries; it took me a good 20 minutes to work my way through a doorstop slice of granary toast piled high with sweet tomatoes and herbs, washed down with a large creamy café latté. I munched my breakfast surveying this market, one fascinating enough to have a book dedicated to it, (The Market
– Stories, history and recipes from the Adelaide Central Market by Catherine Murphy) and fell deeply in love with the market. Portobello Market is my neighbourhood market now; but I look forward to making Adelaide Central Market my local, where I know the stallholders by name.
Leave a reply