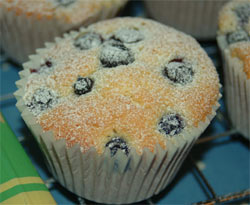 Shortly before Christmas, Mildred sent me this recipe for these "little light muffins which were so easy to do . . .the recipe was from my friend, Sylvia. You don't need a mixer, thinking about it I expect they would be fun for children to make! They are yummy, and look so nice!"
Baking with children is always rewarding especially if the cooking time is under half an hour and you don't needto drag them away from another project at the end of cooking time.
The name Friand was new to me and a brief foray onto the internet told me that a friend is a traditional French tea cake made with almonds and fresh fruit.
Mildred added, "We keep a couple of trays of Blueberries in the freezer now and just use them frozen! They work perfectly. It is also good just using egg whites, the yolks can be used up in marzipan! The Friands are a doddle to make, I like quick, easy things sometimes."
Blueberry Friands recipe
Ingredients:
100g unsalted butter – melted and left to cool a bit
125g icing sugar, plus extra for dusting
25g plain flour
90g ground almonds
3 medium egg whites
Grated rind of an unwaxed lemon
85g blueberries
Method:
Preheat the oven to 180c (fan 160c). Place 6 muffin cases in your muffin tin.
Sift the icing sugar and flour into a bowl. Add the almonds and stir.
Whisk the egg whites in another bowl using a hand whisk, they don't take long! They need to be at that light, floppy foam stage.
Tip in the egg whites and lemon rind into the dry ingredients, stir again, then lightly stir in the butter to form a soft batter.
Divide the batter among the 6 muffin cases – I half filled each then added a few blueberries then added the rest of the batter and topped them off with more blueberries. Alternatively, you can fill the cases and throw the blueberries over the top!
Bake for 15-20 minutes until just firm to the touch and golden brown.
Cool in the tins for 5 minutes, then turn out and cool on a wire rack. Finally, dust lightly with icing sugar.
Leave a reply