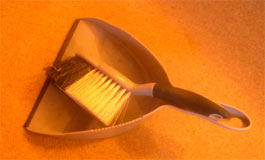 Christmas and Easter are flagged as reorganisation opportunities here in the cottage. No matter how frenetic our lives and projects are, we always take a few days off. Treasured days. On the run up to the holidays I politely explain to my client that they will not be seeing me for a couple of days before the festivities begin.
This is when we Christmas clean or Easter clean the cottage. We seem to miss out on the traditional Spring clean.
We discover how much wildlife is coexisting with us in the far outreaches of the cottage rooms. Woodlice, spiders, and earwigs rub along with slugs and snails. I have spotted the evidence of the latter but never accompanied a mollusc out of the cottage to date. The spiders panic, generally running towards the vacuum cleaner. Feeling terrible at destroying their habitats, I switch off the vacuum cleaner and give them 15 minutes to pack their bags and leave. A great excuse for a tea break.
We also uncover important items that have been lost for months. Little piles of individual socks that can return to their bereft partners in Danny's sock drawer. Today I uncovered a cheque book, lost for months, and Jalopy's papers. Wonderful discoveries as I need to tax my old pal at the end of December. I also found my sunspecs. Missed all summer and worried about as they are optical quality and cost £150. Christmas is the time for families to come together but here it is a time when we reunite with so many lost things.
Once the main rooms have been transformed from workshops to reception rooms we examine other areas that need attention. I am now working on the cupboard under the sink – for weeks now, there has been an avalanche of pans and containers each time we open its doors.
The two days of clearing and cleaning are fun. Suddenly there is time to fix the little things that have niggled for months. And for the few days of the holiday we have a cottage that looks just like a normal cottage where real people live rather than a place inhabited by two hobos.
When my mum arrives on Christmas Eve, she likes it too!
Leave a reply