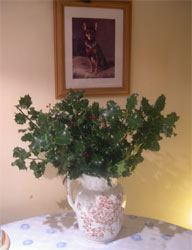 "Holly is at a premium this year. Especially holly with berries."
Alistair was laying branches of holly on the lawn of the house where I was working last week. All the holly that was removed was to be given to me. David, the owner of the house, had left detailed instructions for Alistair. Our eyes drifted to the small pile of holly on the lawn
"A small bunch like this," he rounded his arms loosely to underline his point,
"would fetch £80 wholesale if it had berries on."
I was astonished. I checked for berries. My holly had none. It was simply too late in the season
A few days earlier David had told me of his plans to remove all the holly bushes from the garden. I was on instant alert and unthinkingly blurted out that it's unlucky to cut down holly.
He spun round, his face concerned.
"Really?"
"My mum always says that a farmer would never cut it down."
We stood surveying the holly trees. One established tree and two young ones, barely a metre tall.
It was one of those tricky moments. No one wants to live their life according to superstition. But we are doing up his house to get the best possible sale price and why rock the boat. Embarrassed about my remark, I wanted to slink away. After a long pause David turned to me.
"We will keep the big holly tree. From now on it will be known as Fiona's Holly. We will dig up the small bushes and they are for you."
Tactful, circumspect and generous.
So armfuls of holly adorn the cottage this Christmas. The red berries are from a couple of unknown shrubs that were also removed from his garden.
Traditional for centuries at this time of year, our jug of holly is simply stunning and has given us enormous pleasure.
Leave a reply