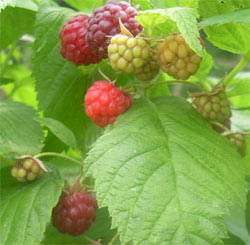 Tiny hands clap with glee when I make jellies.
"Why do we only have jellies when we are entertaining? Let's make far more than we need or invite less people next time."
Danny was scraping a small stolen tumbler clean.
Good fresh fruit jellies are a delight. Wonderful as a little something if you are laid up in bed, a great dessert for everyone, including those on a low fat diet. Gelatine is also good for you, strengthening your hair and nails. So for once you can let rip and indulge with impunity. The amount of sugar that you use does not affect the setting process so you can add less if you like.
The trick to a good fruit jelly is to put as much fruit as you can. You don't want great sea of jelly and just a few pieces of fruit bobbing about. If the fruit is expensive make smaller jellies. I have enjoyed superb jellies served in liqueur glasses in the past. One perfect tantalising mouthful.
Fresh fruit can be frozen to flavour the jelly. And then you can add fresh seasonal fruit to the jelly when the time comes. Raspberry and clementine jellies are great at Christmas when food can be a bit on the rich side. They are pretty too.
This morning I examined the residents of the fruit cages. We have strawberries, dessert gooseberries (these can be eaten straight from the bush), red, white and black currants and several different types of raspberries to guarantee a supply from now until the autumn. I ate my first home grown raspberry today – the dark one in the photo. One of the best moments of summer so far.
We are poised on the edge of making jellies for weeks to come. That's if there is any soft fruit left from the frenzy of making wine, fruit liqueurs and jars of fruit jam and jelly.
Homemade raspberry jellies recipe
Ingredients:
500ml water
100g of vanilla sugar (caster sugar that has a vanilla pod sitting in the jar)
350g raspberries
4-5 sheets of gelatine
Method:
Wash and sort the raspberries. Keep the firmest ones to add to the jelly.
Dissolve the sugar in the water, add 150g of raspberries and bring slowly up to simmering point. Simmer the raspberries for 5 minutes and then remove from the heat and steep for five minutes. Strain the mixture through muslin and reserve the liquid.
Meanwhile soak the gelatine in cold water until soft. Squeeze out the water gently and add the gelatine to the (hot not boiling) raspberry liquid and stir to dissolve.
Allow the jelly mixture to cool before dividing the remaining raspberries between 6-8 100ml glasses.
Pour the jelly mixture into each glass and allow to set (this can take several hours). Transfer the jellies to the fridge when they are cool enough. These jellies will keep for a two or three days in the fridge.
Leave a reply