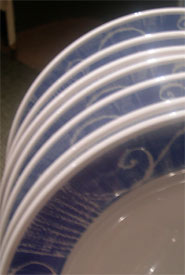 My maternal grandmother had a bit of a reputation for making a fuss in hotels and restaurants. She would complain vociferously about a nail in her chair or a plate that was inappropriately hot or cold.
During the nail complaint episode she was silenced by being lifted aside, still seated in the chair and then seamlessly and gently deposited into the new replacement chair. Apparently, the operation was as swift and satisfying as a frog catching a fly.
The incident that was flared by strawberries being served on a warm plate was not so smoothly managed.
My grandfather kept a little black book with the names of hotels and restaurants that they couldn't return to. Eventually the list must have filled several little black tomes.
Danny doesn't make a fuss if I've forgotten to warm the plates for a meal but everything is put on hold until the plates are warmed. I can understand where he's coming from – they are a key element that add the gloss to a meal.
Warm plates with hot food, a large glass of wine, good conversation. The latter is never guaranteed over our mid week suppers when there it's just the two of us but I have grown accustomed to his penchant for warm plates. And now I appreciate them. A small but perfect touch.
If we are eating elsewhere and the plates are cold my antennae instantly twirl remembering his comment about cold plates.
"The juices chill, the meal is only at it's best for a few minutes, and then it's like eating greasy leftovers."
In an ideal world, Danny's plate would sit on a plate warmer. He'd probably get repetitive strain injury accessing the plate but he would be happy. He never makes a fuss in a restaurant or hotel but I'm sure that he has a virtual little black book where these things are noted. And somewhere in the fuzziness of my mind they are probably inscribed too.
Leave a reply