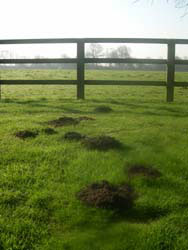 I always feel a bit sad when I find a dead mole in the garden. With its soft velvet coat and long sensitive nose, the mole seems such a small loveable creature. The Min Pins catch them and then toss them aside for their human pet to collect. Clearly they are not as appetising as the guinea pig that they killed in the garden and carried into the house for an impromptu bacchanal on a pretty pale yellow button backed chair. But that's another story.
Occasionally we get an active mole in the garden. They can be a real pest, especially if they are in the kitchen garden. Years ago, when I lived here with just one elderly Min Pin, I engaged the services of a mole catcher with good results. I was under the impression that trapping moles is a skilled countryman's pursuit.
I am working locally at the moment in a lovely house set in a large garden bursting with wildlife, including an adventurous mole. My clients are busy people with schedules that do not include scratching around in the garden. So I was amazed when the lady of the house pulled on a smart pair of Wellingtons and announced:
"You probably won't approve but I'm going out to kill the mole."
Disapprove? Not wanting to get my hands dirty, I had hired an assassin in the past.
Moles do not spread disease like rats but they can wreck a lawn in a few days. Left undisturbed, the mole bongo drums must throb because coach loads soon arrive and you open your door to more hills than the Himalayas.
I watched her stalk across the lawn wearing a pair of marigolds and holding a mole trap.
When she returned she was instantly interrogated. Had she caught a mole in the past?
"Well, yes."
I was impressed.
She sat down and explained. Moles have a finely tuned sense of smell. Basically the secret is to always wear gloves when handling a trap. Wipe a new trap and put it in the garden to get rid of all human smells. After a couple of days you can set it.
To do this you need to locate the underground run between a couple of molehills. This is easily done using a bamboo cane if the ground is soft. Then, using a slim trowel or ultra fat dibber, make a hole into the run and place the trap. The general idea is that the mole will tootle along the tunnel and into the trap. Within seconds the mole will be investigating that great mole hill in the sky.
The mole in question is clearly a relation of Einstein. She has not been caught. She spotted the trap and turned around sharpish. She is now tunnelling across the paddocks beyond the garden perimeter. The perfect outcome for those who love and those who loathe moles everywhere.
Tricks and tips:

Mole claw traps are inexpensive. If you cannot buy them locally, scissor type mole traps
are available here.
I was advised in the past that old fashioned moth balls dropped into the runs deter moles. A reader has emailed me from New Jersey to say that it's a bad idea to put mothballs in the soil as they kill beneficial microorganisms and earthworms.
Leave a reply