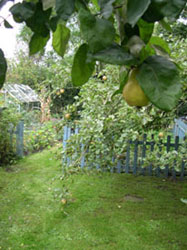 The radio is my lifeline. They key resource for finding about the world outside the cottage gates. If I'm working outdoors, which I have been for quite some time, I move in a mute world news wise. Danny fills me in with key events but loads of things pass me by.
Last week I was working inside so tuned to BBC Radio4 to catch up, in depth. Apart from the slump in the housing market, the news was full of rising prices and horrible murders.
Oil prices affect everything from the cost of a handful of peanuts in the pub to a tank of petrol. As I painted away, I forced myself to listen to each programme, from in depth analysis of the situation and its impact to the comedy programmes at the other end of the spectrum.
Initially I felt depressed by the end of the week I was planning for our future and far more fired up than I've been for months.
Our 2008 challenge – trying to save 25% of our over the counter spending – has demanded a lifestyle change. It demands that we are bit more resourceful and get the best possible return for the money that we do spend.
The key stepping stone was cutting our meat consumption and finding the brilliant food cooperative in Cambridge. This combined with suggestions from visitors to the blog and a bit of imagination has made the challenge interesting and fun. Kay's suggestion of one store cupboard and one allotment meal a week was inspirational. I started to think of these two areas in a completely different way. A good larder and vegetable plot could be the key to our simpler living future.
.
We are lucky. We have a large garden. We can grow a lot of the stuff that we eat (vegetables and fruit). We can up our stock (chickens and bees) and produce more to sell and swap for things that we cannot grow. We are now making good home cured bacon, salami and The Chicken Lady and I have linked up and have finally developed our secret recipe – pork pies to die for. We have resources that could be developed from hobby to a more productive future with good planning and just a few extra hours each week.
We also live in an area filled with trees. These do not live for ever. The road sides are littered with fallen branches. We could stop and pick these up. We could also investigate turf fires (a lot of the northern islands are turning back to these as a source of fuel).
Living in a rural area, Jalopy is essential. Since January, I've been much more careful to get the benefit of the ?3 round trip into Newmarket and try to combine several stops on each visit.
We can do nothing about the rising fuel prices but I could target my business to be even more local. Once my equipment is in situ I could even travel by bike!
We met the over the counter spending challenge this month. Saved just over 35%. It meant a bit of ducking and diving and some weeks we ran out of things but that is far better than throwing away a surplus that has gone off.
I was concentrating on growing rather than cooking things this month but I did invent a vegetarian recipe for the first time last week on a wet chilly day. Tired of adding cheese, tomatoes and peppers to most veggie dishes I made a dish that has none of these but lots of voomf and the filling is fat free. The recipe for Comfort Pie will be posted next week.
After my week with the gloomy radio I could be depressed. But I am feeling chirpy, we are at the start of a brand new adventure. Saving money by being resourceful and realising the potential of what we already have.
Leave a reply