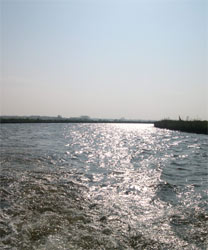 Twenty five years ago a talented craftsman passed me a small sculpture that he had made for his son. It was a model of the child, asleep in bed. The bedcover was the landscape in which he lived and played. He pointed out key places. The little copse where he climbed trees. The clear chalk lined stream where he fished for minnows. The butterfly meadow. The place where they had glimpsed the fox.
When I am ill in bed, I remember this exquisite bed with its landscape cover. The world beyond our duvet and downy pillows diminishes and the bed quickly becomes an island. Essential supplies are dropped off by Danny on his way to the Rat Room. Fresh hotties, cups of sweetened tea and packs of Beecham's powders. I hear him talking softly to my client, explaining that I won't be in today.
My focus becomes so small that a spider making a web above me keeps me amused for hours.
After a day or so, the island horizon starts to expand. Small day to day worries are forgotten. I become nocturnal, sleeping on and off during the day and reading into the night as D dreams gently beside me. I live vicariously through the lives of the characters in the pile of novels beside the bed.
I was surprised to wake from a long sleep this afternoon with Masefield's words on my lips,
"Quinquireme of Nineveh".
It must be forty years since I read the poem. Intrigued I ventured onto the Internet to put the words in context.
The line continues.
"…from distant Ophir
Rowing home to haven in sunny Palestine."
I felt a bit better. The sea air in my dream journey had clearly done me some good. I am rarely ill and have discovered that the enforced withdrawal and time for reflection often puts things gently into perspecive again.
Leave a reply