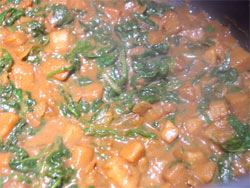 "A typical meal at home doesn't consist of a main course and vegetables. Rather a pot of rice and a lot of side dishes," Danny's friend Dipak confided, a year or so ago.
I remembered the remark this week. Had I started making side dishes for curries and frozen some portions, I would now have a selection in the freezer for mid week meals. On days when I long to reach for the telephone and order a takeaway. I make a good raita but this has to be run up and eaten immediately. Why not add some other dishes to the freezer that could be prepared in advance?
Vegetable curries seem to work well. The combination of flavours textures and spiciness is satisfying. For us carnivores it distracts attention from the lack of meat.
We love Delia's green lentil and egg curry once a fortnight with several chutneys and loads of papadums. Daily Bread and most Indian shops stock the traditional papadums (papadas/pappadums) on the pack – made by Natco) – much better and cheaper than the Sharwood ones. They can be prepared in the microwave in seconds or under the grill if a quick brown fox like Danny is in the kitchen.
Tonight I made Saag Alloo. D always orders this in Indian restaurants. The potato element appeals to an Irishman. I'd looked at a few recipes and most fried the onions and the potatoes.
As we are trying to cut down on fat I used dried onions, soaked in boiling water for five minutes (Daily Bread again). As Danny has a horror of excess cumin, I substituted Garam masla (this has cumin as an ingredient balanced with other spices).
The potatoes were simmered very slowly in the stock with spices. The dish was delicious and got the thumbs up from Danny who has savoured Saag Aloo across the globe.
Low fat Saag Aloo recipe (side dish for 4)
Ingredients:
1 inch (2.5cm) of fresh ginger peeled and chopped fine
1 large garlic clove chopped fine
1 heaped tsp of dried onion flakes (rehydrated in boiling water). A chopped fried onion would work equally well but we were targeting no fat this evening.
2 tsp of Garam Masala
1 tsp of turmeric
1 heaped tsp of vegetable stock powder dissolved in approx 250ml of water
350 g of peeled, cubed potatoes
200 g of fresh spinach
Salt (or a little fresh lemon juice) and ground black pepper to taste
Method:
Bring your vegetable stock to simmering point in a large heavy bottomed saucepan.
Add the onions, garlic, ginger and garam masala.
Stir well and add the cubed potatoes. Simmer the potatoes very slowly, turning them over every now and then. The idea is to let them infuse the stock and spices. When they are soft and the spicey stock is thick (after about 20-30 minutes). Add a little more of the vegetable stock, or water if they appear to be drying up.
When the potatoes are soft add the spinach leaves (washed and well drained) and let them wilt into the potatoes and spicy sauce. Taste and adjust the seasoning. Lemon juice can be substituted for salt for those on a low salt diet.
Low fat cooking tips and tricks:
Dried onions are a godsend to those on a low fat/no fat diet. They just need to be rehydrated (like dried mushrooms) and treated as raw ingredients from that stage. We use them a lot now we are trying to cut down our intake of fat and fried food.
Dried onions are great in any dish that takes at least 45 minutes to cook. If it is a quick ten minute dish pre cook them. I'm sure that they could be dried at home with a bit of ingenuity.
Leave a reply