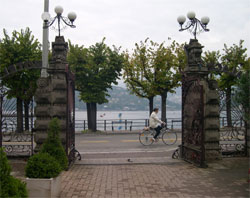 We love Italy. We love this gregarious nation with their beautiful language and stylish elegance. The Italians have just got it, with their food, fashion and art. When we can afford a trip abroad we are drawn to Italy. We love to explore the old quarters, the parks and find romantic villas surrounded by secret walled gardens and guarded by heavy gates. I love the narrow streets with tiny balconies bursting with flowers, tiny formal gardens glimpsed through half opened doors. I love sitting in a café in a generous piazza, drinking coffee and relaxing in the buzz that is Italy, for me.
Last July I grabbed a pack of Galbani's Santa Lucia Mozzarella Maxi in a lightening dash round Waitrose. I was attracted the words on a small yellow sticker "Win a luxury break by Lake Como".
"Danny and I could do with that," I thought as I tossed it into the trolley. When I discovered that we had won, tears of joy were quickly replaced by a wild search for the terms and conditions. Yes it was for two, it included scheduled flights from Heathrow, transport from Milan, and half board at the four star Palace Hotel overlooking the Lake. It was one of five holidays that Galbani were giving away.
The October date seemed light years away but finally, after a lightning dash to TKMaxx for a rain jacket on Friday morning, we were chugging down to London on the midday train. Galbani treated us to dinner at the Café Rouge at Heathrow and on the flight to Milan we had fun trying to spot the other prize winners.
We have been working hard recently and were exhausted. An enforced break, at this fabulous location was exactly what we needed. Whilst the other prize winners visited the museum and filled their time with trips, our priority was sleep. We dozed on the train and the tube out to Heathrow. We checked into our superior room, with lake views, and slept. Waking for a massive breakfast, we tottered into the town and realised that we needed more sleep before we could start really enjoying ourselves. After snacking on the lightest, delicate, melt in the mouth pizza, we returned to the hotel and snored soundly.
The Italian siesta was our reprieve. We bounced out of the hotel gates at about five to shop for a couple of hours before finding a comfortable bar. Surrounded by bags of Italian parmesan, chillies and herbs. We sipped a much needed aperitif and spent a happy hour people watching.
The Italians play well and are delightful to observe. From the slinky couples to proud parents pushing precious toddlers staring imperiously from expensive baby carriages. They adore their dogs too. Treasured hounds, sporting elegant collars and leads, are petted and admired. One man had built a little platform on the bar of his bicycle and his bright eyed dog rode with him, paws on the handlebars, ears flapping in the breeze. Another man hurtled across a piazza with a large bounding dog on a flexible lead, so that he could chase the pigeons.
It was a perfect weekend. Thank you Galbani.
Leave a reply