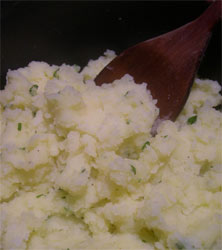 Potatoes are important to Danny. Not just having some on the plate. They have to be the right variety. When he talks about potatoes it's like a man describing a tribe of much loved children. And then there are the best ways of cooking them.
"Creamed potatoes need lashings of cream and butter. That's why they're called creamed."
The milk bottle is silently returned to the fridge.
The urge to create a new potato dish bubbles to the surface every now and then. This can only be attempted when I am cooking and D is closeted in The Rat Room, with a large glass of whisky and a hot keyboard.
The belly of pork recipe that I posted a couple of days ago is a very rich dish. Danny suggested creamed potatoes but I fancied something less detrimental to the figure. I skinned and boiled 450g of potatoes and put them through our potato ricer. This nifty device looks like a giant garlic crusher and removes all lumps easily it also seems to fluff up the potatoes so that adding any extra ingredients is a doddle.
Having checked that D was safely out of the way I added 3 tablespoons of mild rape seed oil and 2 teaspoonfuls of finely chopped basil to the mash. He always uses freshly ground white pepper in mashed potato so I added a good dash of that and a little salt. It tasted good, very fresh and summery. I put the saucepan in a warm spot for ten minutes to allow the flavours to infuse. Danny loved them and they balanced the pork perfectly.
Leave a reply