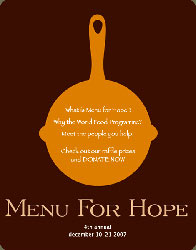 We all love to eat great food. Most of us have never gone without. We might read a recipe and turn it down because it's just too expensive to make.
Imagine not having the money to buy food. Any food.
It's the last day of Menu for Hope. ?5 buys you a raffle ticket to win a scrumptious prize. Last year $66,000 was raised to fight real hunger. Just now I saw that the total was just $57,000. It would be so good to top last year's total figure.
We have put up a slim hardback winemaking book that has given me superb results – it is out of print and 40 years old but could be your gateway to wonderful homemade wine. It is packed with chemical free recipes. I was delighted to find the book lurking on a second hand book site and I bought it for this event! Complete Home Winemaking by Gillian Pearks is UK28. All international prizes can be viewed on Chez Pim's site . The Passionate Cook's site (who is co hosting the UK end of things with Cook Sister) is featuring the UK prizes.
There are loads of other tempting prizes up for grabs. All profits from your donations go to feed hungry people. Not just at Christmas. Your donations will help feed them in the other eleven unfashionable months as well.
Leave a reply