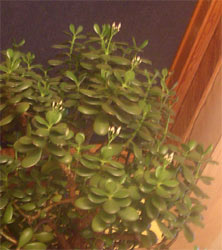 Many years ago I was staying with a friend with time on her hands. In the past, I had noticed the tall green leaved plants that stood in three pots in her drawing room. They didn't flower. They just made up a dull wall of leafy greenness.
When I arrived for this particular visit, they were covered in tiny white flowers, as insignificant as the plants.
"The flowers are not real," she whispered. "They are teeny pieces of tissue paper secured with a twist of florist's wire. It took me two days to make them. My husband didn't even notice them, having complained how dull the plants were."
Yesterday I was astonished when I spotted that our giant money tree was in bud. This plant is a hefty specimen. It languishes in an old porcelain washbowl on Danny's desk in the Rat Room. Had Danny been busy with the scissors and tissue paper?
I examined the flowers carefully. They are real buds on slim, delicate stalks compared to the sturdy trunk of the tree.
This money tree was given to me by Peggy and Tommy. They were moving house and it was too big to take with them. Peggy filled me in on the tree's history,
"My sister gave me this tree. Ever since it arrived we have had enough money. Not loads of money but enough to get along. I do hope that it has the same effect on your life."
I tottered to Jalopy with the massive plant and it travelled home in the front beside me – its seat belt on.
This evening Danny carefully examined the buds as I photographed them.
"Do you think that they might unfurl into large cheques? Or even small ones?"
Leave a reply