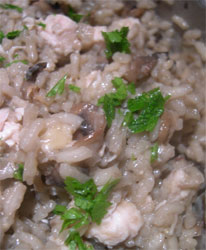 Despite a few clouds this afternoon it has been sunny all day. Only 12 hours ago I was wrapped up like Eskimo Nell and considering collecting twigs for a fire in the igloo.
On a warm summer evening I love concocting a risotto bursting with summer flavours and colour. Last night, I flicked on the heater in the kitchen and mulled over the menu for supper. I wanted deep earthy flavours and tones. Comfort and warmth were a priority. There were chestnut mushrooms in the fridge and Arborio rice on the shelf. Perfect.
I enjoyed making this dish, turning over the rice and mushrooms and savouring the aroma. I tried adding pesto as we did with our mushroomy mushrooms recipe. When it was cooked, I divided the risotto in half. I made enough risotto for 4 so as to have enough to make Richard's superb arancini tomorrow. In one half I stirred through a couple of small handfuls of cooked diced chicken (actually just one large chicken breast but don't tell D) and this heated through in one half of the risotto whilst I threw a salad together.
By the end I found that I had made an animal of a dish. The soft mushrooms and rice had a silky pelt feel. The pan of risotto looked as if it would happily spring from the stove and curl up in the basket with the dogs.
We feasted.
Mushroom and chicken risotto recipe (enough for 4 hungry people)
Ingredients:
2-3 large tbls of olive oil
25g of butter
1 large onion (chopped)
1 fat clove of garlic (crushed and chopped)
400g of Arborio rice
750ml – 1 litre of stock (I used marigold 2tsp to 500ml of boiling water)
200-250g of chestnut mushrooms (quickly rinsed and sliced fine)
10g of dried wild mushrooms (soaked in a little boiling water to cover for 10 mins and then chopped fine, reserve the juice)
1 heaped tsp of pesto
2 large pinches of good Italian herbs, or fresh herbs from the garden such as a mixture of oregano, margoram, thyme, chopped fine (you'd need about 2 tsp)
2 large cooked chicken breasts
5 tbsp of finely grated parmesan (3 to add and 2 to serve as a garnish)
1 tbsp of flat leaf parsley torn (to serve)
Method:
Heat the olive oil and butter in a sauté pan or large casserole
Add the onion and cook gently until translucent
Add the crushed, chopped garlic
Add the rice and stir to cover the grains with the oil
Add the dried chopped mushrooms and juice
Stir in the chestnut mushrooms
Add the pesto and herbs and the stock, a cupful at a time, stirring the rice until the stock is absorbed before adding the next cup. This will take roughly 20 mins or so. The rice needs to have a softness and bite
Remove the pan from the heat and stir through the cooked chopped chicken breasts and 3 tbsp of parmesan. Pop a lid on the pan, these will heat through in the risotto within a few minutes.
Finally scatter with parsley and serve
Leave a reply