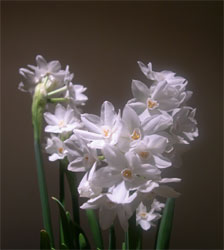 When my Mum left at the end of her Christmas visit this year, she asked me to open the boot of her car. She had a funny glinty look so I was intrigued as I put the key in the look. Snuggled up beside the tyre jack was a bowl planted with paper white narcissii. I was delighted. In an instant she had filled a yawning gap.
Usually we buy bulbs and plant them in large bowls for the cottage so that they'll flower for us indoors through January and February. Once they are over, I plant the paper whites in a sunny protected spot in the garden and they usually thrive. This year we were so busy that we didn't even have time to carry in and decorate the Christmas tree.
So it's an unexpected treat to have spring bulbs flowering in the house this January. Even the first leaves were breaking news. Each bud was counted and since the flowers appeared, every tiny detail has been treasured. The bowl is near the telephone, a great distraction on a long boring call.
The flowers of the paper white may be diminutive but they have an exquisite perfume. This is the scent of boudoirs, soft laughter and the gentlest teasing.
Leave a reply