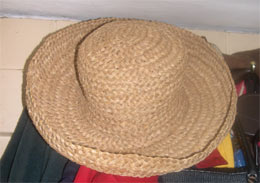 It's the last thing that I reach for when I leave the cottage in the morning. Satisfying to the touch. Slightly scratchy but soft and reassuring with years of wear.
My old hat usually travels on the passenger seat on the outward voyage to work. In the evening it views the world from the top of my head.
It was quite smart once but over the years it has been sat upon and squished. It spent last winter beneath the extinct wood burning stove in the kitchen. A bit of luck as it would have frizzled if the stove was alive.
It has protected my head for so many times this summer that it's now an old friend.
I used to wear cotton hats, the ones that you can buy from camping shops. Large sizes with crumpled, comfortable brims after the first wash.
They are lost in the airing cupboard or ˜hot press' as Danny calls it.
In desperation, I grabbed my gardening hat one morning and it's become a treasured companion. The straw lets my head breathe. The rounded brim can be turned down for super privacy and protection from the baking midday sun. It also has a certain style.
At dusk on a sunny day my hat's finally whisked off to double up as a basket for carrying vegetables from the evening forays to the kitchen garden.
Rest assured, it's not overworked. It rests on a peg on the door at night and sleeps in at the weekend.
Leave a reply