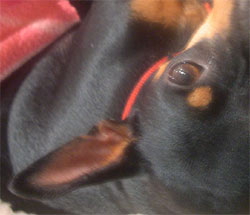 Last night I gardened until I couldn't see the weeds.
When I drifted inside, the dogs looked hopeful. So I grabbed the bag of complete dog food and prepared their meal. A bit late but humans hadn't eaten yet.
Great Aunt Daisy Beatyl observed me from her igloo. Usually on a late supper night she is doing her Whirling Dervish dance and yelping vociferously. Something was wrong.
Suspecting that her teeth were giving her gip, I soaked her biscuit for longer than usual.
When I laid down the bowls in order of seniority, Daisy Beatyl kept us all waiting. She eventually ate the beef mince topping and returned to her igloo. The rest of the pack polished of their bowls as I tried to hand feed DB the softened biscuit. Diasy B turned her head away.
The other three scoffed her supper. I found a luscious topping of pork and vegetables in the fridge and fed a couple of large handfuls to Daisy Beatyl, who was politely enthusiastic.
She was observed closely by the usual suspects who were clearly enraged that they were not offered the same.
DB ate but something was definitely off the mark. Usually she hoovers up the food, now she was actually chewing.
With a heavy heart I mounted the stairs to the Rat Room.
"Daisy Beatyl must be ill. She wouldn't eat her supper, except the topping. She's eaten a bit of the pork and vegetables. It took ages."
"But I fed them an hour and a half ago."
Dogs. As canny as a jar of pre prepared mustard.
I flew down the stairs and gave D Beatyl a big cuddle, and covered each somnolent, overfed beast with a blanket.
They'd won, fair and square.
Leave a reply