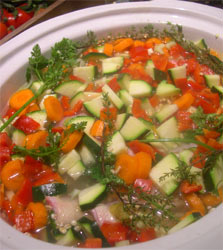 I found a pack of eight chicken legs knocked down to £1.49 in Waitrose on Sunday.
My mother peered at the pack. "They look awfully thin and scrawny."
"I don't care! Slow cooked with loads of vegetables they'll make a great chicken casserole."
"Well, I'm going to buy these chicken thighs." She reached for a substantial full priced pack, tempting and plump.
Rising to the challenge, I rushed home and madly chopped vegetables.  I filled the slow cooker (crock pot) to the brim and then I pressed in the svelte chicken legs and topped the pot up with a herby hot chicken stock. It looked so promising that I took this photograph when everything was waiting under starters orders. It bubbled away all evening.
I returned from work the next day feeling a bit peaky. The prospect of a delicate chicken dish promised to be the perfect supper. When I opened the fridge door I was hit by the acrid smell of onions. A teeny sample confirmed in a nanno second that I had overdosed on the onion front. This had been moved into top gear by the addition of a giant leek.
Inadvertently, I'd created eight portions of strong onion casserole with healthy chopped vegetables and a smattering of chicken. Suddenly I regretted scorning my mother's pack of plump, succulent chicken thighs.
Whilst Danny happily pottered upstairs dreaming of tasty chicken hotpot, I spun below trying to turn the onion mixture into something more palatable. In the end I turned to "Yahoo answers" and discovered that the addition of potato would diffuse the heavy onion taste. Unfortunately, it was a bit late to cook some potatoes by this stage. So I followed some of the other suggestions. I added a teaspoonful of brown sugar and two teaspoonfuls of lemon juice. These worked well. But we ate an unusual supper comprising of rice and some sort of chickeny onion soup, with a splash of cream.
Danny made encouraging noises but I was really disappointed. Like everyone, I want my new recipes to be perfect every time.
I woke this morning longing to jettison the rest of this dish. Any suggestions for neutralising the onion taste in the other six portions would be welcomed with open arms.
Leave a reply