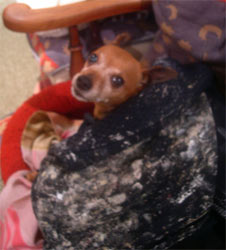 "Finona, do you know that you've got paint on your jumper?"
Hector, aged two, was keen to save my embarrassment. Growing up in a world where a splatter of paint beyond a painting smock would cause a shriek of horror, he was intrigued.
Later in the day he came into the room where I was working and carefully closed the door. He stood beside me and his head followed the journey of the massive roller is it transformed the walls from yellow to a paler shade of yellow. After a while he tapped my leg and whispered, loud and complicit,
"I get paint on my clothes too."
He gazed up and added, "But only when I'm painting pictures. I'm going to paint walls when I'm bigger."
If I'm decorating I always have paint on my jumper unless it's one that has recently been demoted. My decorating clothes are armour plated with more paint than fabric as they lurch towards the end of their lives. I like wearing them. They are companions. Warm, svelte sailing sweaters pulled on over sailing T shirts in winter and just the T shirts in summer. Teamed with trousers that have seen so many washes that the legs have shrunk. With Caterpillar boots it's an outfit to guarantee comfort whatever the weather. But the sort of combination that has yet to step onto a Paris catwalk.
I don't sail but I like the clothes. They are rugged and designed for people who haven't time to iron. They also are streamlined and don't catch on things. The French brand Armor-lux are a great investment – they last for years and never need to be nurtured.
Many children that I meet on my decorating travels announce that they want to be decorators when they grow up. The response from the parents is guarded. If I'm beavering away in the background, they have to be polite.
Perhaps I am the first person that the children have seen make a quick dramatic change to a room. Deep purple in the morning to cream by dusk. They like the equipment. From extendible poles to the teeny, tiny brushes for cutting in over bobbly surfaces. And I talk to them. You can learn a lot from a child.
When I'm bigger, Hector, I'm going to paint pictures. Like now, I won't care if I get paint on my clothes.
Leave a reply