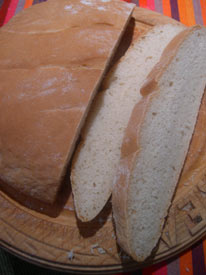 Bread making has become a bit of an obsession.
I baked every evening while Danny was away, trying out different recipes and methods. Lots of late nights for me and the trusty old Kenwood Chef that has been eased out of semi retirement to do the kneading. She's a trooper and as she kneads she gives me the time to prise stray bits of dough off the kitchen worktops and sweep the daubed flour off the tablecloth.
I have the book that Veronica suggested on order from Amazon. Waiting for the bread to rise is fine on a day off but when I get home late, a four or five hour rising and kneading process is just not practical during the working week.
I discovered that if I combined 250g of fine French flour (the pack told me that it was suitable for cakes and pastries) with strong white bread flour, then the French recipe that I found worked like a dream. Superb, fresh and excellent toasted on day two and three. Even though I halved the proving time, the process seems an endless trek, late at night.
The bathroom is full of cookery books. The Internet is great for researching recipes but there's nothing like a long hot bath and a book or five for finding the perfect way forward.
One hot steamy night, I found a recipe that seemed to be the perfect answer. Italian Pane Basso (Tuscan Country Bread). This was from a delightful book A Table in Tuscany
by Leslie Forbes.
Perfect for three reasons: minimal rising time, no salt, and this bread tends not to go mouldy but dries as it ages. The last point is a real winner – apparently stale bread is used to thicken soup and sauces in Tuscany. The recipe seems to have been replicated all over the internet so you can view it here http://www.bigoven.com/120135-Pane-Basso-(Tuscan-Country-Bread)-recipe.html. I supplemented dried yeast (hand baking rather than bread machine). 25g dried yeast is equivalent to 50g/2oz of fresh yeast.
Two hours later we sampled the bread. It tasted bland but the crust and texture were good. So as Danny cooked our Sunday roast I made another loaf adding 4 grams of salt to the main body of the flour, rather than the dough yeast. The taste was transformed.
"This is just like the bread that we savoured in Monterosso al Mare, five years ago!"
So good that I just ate a slice of bread and butter for breakfast this morning. The French bread uses 12g of salt for just one loaf loaf. The Italian bread is great for us – with just 4g per a loaf (8g for the two loaf recipe).
Leave a reply