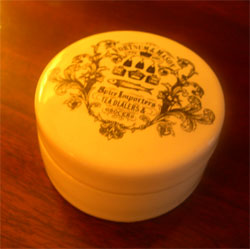 This exquisite concoction is so quintessentially English that Danny had never heard of it until the fateful day when he stepped over the Cottage Smallholder threshold. And then I didn't rush at him shrieking, "Patum Peperium," or even, "Gentleman's Relish." In retrospect, this might have got the relationship off to a cracking start. Several years passed before he was introduced to this delicacy.
My nephew, Hamish, sent Danny this special Fortnum's pot of relish one Christmas. Whilst I marvelled over the bijou pot, Danny was tasting and spreading. In a trice he was hooked. The instructions direct the user to spread sparingly. I don't think D read these. It was licked clean within two days.
John Osborn created this spicy anchovy paste in 1828. He was clearly a canny lad as the recipe has never been published and it is now made, under license, by Elsenham Quality Foods. Apparently only one Elsenham employee knows the recipe. This seems a bit dodgy to me. An obvious target for a culinary kidnap.
For me Gentleman's Relish was part of growing up. It sat in the fridge in a heavy white glass pot. It was easy to knock the lid off when one was reaching for something in the depths beyond. The old pots were great and often recycled as ashtrays. They have now been replaced by plastic pots with lids that stay on.
I hated it as a child but took to it in my twenties. Traditionally "Gentleman's Relish" is spread on thin, lightly buttered hot toast. We had it on toast, under scrambled egg for supper when I was growing up. It's also excellent spread on toast, covered with soft cheese and lightly grilled. Some people that I know even add a dollop to fish pie. Although the Fortnum and Mason website scorns this sort of wanton behaviour and directs every one to treat "The Gentleman's Relish" with the respect it deserves.
Leave a reply