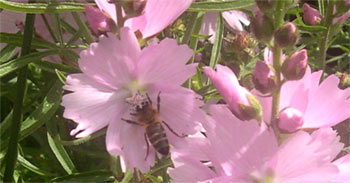 It's the same every year. Danny gives me tickets for the RHS Hampton Court Flower Show on Valentines Day. It's a romantic present that has my friends shrieking with envy until they hear that Danny doesn't come too.
This is fine with me. Danny is a twenty minute man when it comes to exhibitions and shows. He springs through the entrance on full throttle, hovers momentarily beside anything that appeals and parks beside the best coffee stand on the site. After that it is back to the car (parked in the shade) and the Sunday papers. If I linger too long the drive back home is a white knuckle Michael Schumacher winning experience, without the smiles and champagne.
So when he proffers the tickets I ring my sister and we mark our calendars and agree that we will leave really early to get the best out of the day. We never do. I collected her at 11.15 this morning and the trip took three hours. I am beginning to twig that the AA route time estimate of 2 hours 1 minute must be how the AA birds fly.
Fuelled by freshly cut sandwiches from the Cottage Smallholder Kitchen we grab our water bottles and clamber onto the free Park and Ride bus that drops us on Hampton Bridge.
The walk to the show ground seems so much shorter than the totter back to the pick up point at the end of the day, laden with plants and must have buys. After an impatient wait, we press onto the bus, now filled with 10 times more plants than people. We all crouch under a jungle of roses, twiddly metal things, grasses and nodding exotics. When the bus stops we cannot see beyond the lilies and potted ferns.
Today, a dark man gently parted his 15 litre pot of bamboo to speak to me.
"Are we here? Is this the car park?"
I was barely breathing beneath a small but heavy lead bird bath, and could only lift an eyebrow.
Desperate he adjusted the volume.
"Can anyone hear what the driver is saying?"
We all sat tight. Eventually someone forced their head through the undergrowth and recognised a landmark. As one we got up and gingerly descended, a motley collection of plant lovers laden with the spoils of the last day of the Hampton Court Flower Show.
Beetle like we picked our way across the busy road. When we found the car, we scoffed the last of the sandwiches. As we glided towards the M25 we spotted pedestrians dwarfed beneath armfuls of plants and gardening paraphernalia. On the motorway we are overtaken by mobile greenhouses disguised as cars doused with Eau de Formula 1. These roars settled down after a few minutes and my sister dialed Danny's number as he was expecting us back shortly,
"We promised steak for supper. You might like to make your own."
Thanks Danny. It's the perfect present.
Leave a reply