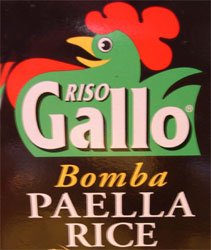 All too often I'm doing the big shop with only seconds to spare before the doors close. This is only possible if you know exactly where every item on your list is located within the store. I have been known to complete the weekly shop in ten minutes.
Every month or so I arrive early and dawdle in the supermarket. Examining the shelves carefully, looking for new lines. Last month I spotted a pack of Gallo Bomba Paella Rice. I had just bought some seafood from the fish counter and a paella would be a perfect supper. I turned the pack over and discovered that there was a quick recipe on the back. This was good news. Some paella recipes take forever to make. There was just one problem, Danny hates paella. It's all down to a disastrous incident in Spain.
"I had a paella in Barcelona once. There was sand in the mussels.'
He hates any sort of grittiness. Once he woke me up to tell me that he'd just had a nightmare about eating my scrambled eggs. I was alert in an instant. What was wrong with my scrambling technique? It wasn't anything to do with the eggs, he explained, it was that I'd left a teeny bit of shell in the mixture.
I'd just bought squid, king prawns and scallops and thinking I'd be sand safe with these, tossed the rice into the trolley. When I got home I tootled upstairs and said that I would cook that evening as I'd picked up some seafood. As Danny does most of the cooking he was delighted. I didn't mention the p word.
A little later, when the rice and vegetables was simmering in the sauté pan, looking and smelling delicious, Danny's nose drew him down to the kitchen. He peered into the pan and picked up the packet of rice. Clearly thinking on his feet, he didn't mention the paella aversion which I clearly had forgotten about. Half an hour later he was scraping the final remnants off the pan.
Gallo recipe for quick paella (our adaptation for 4)
Ingredients:
I large onion (finely chopped)
1 red pepper (seeded and chopped small)
3 cloves of garlic (finely chopped)
2 tablespoons of olive oil
1 tsp of saffron threads
240g of Gallo bomba paella rice
Vegetable stock (we use marigold stock powder) or chicken stock
Method:
Sauté the onions and pepper in the olive oil for ten minutes. Add the garlic and cook gently, string occasionally until the mixture is soft.
Add the rice and stir well to coat the rice with the oil and juices.
Add the saffron and sufficient hot stock to cover and simmer for 30 minutes.
Set your timer for twenty minutes and cook your seafood just before the rice is ready. I usually slice squid in fine rings and fry them in olive oil and lemon juice for a few seconds each side. The scallops are cooked for seconds and the raw prawns (these are grey) until they are pink. Set these aside in a warm place. Add a splosh of dry white wine to your frying pan and simmer fast for a 30 seconds to absorb the juices. Gently fold the seafood and juices into to the paella using a metal spoon.
Check and adjust seasoning and serve. A handful of fresh chopped parsley is good with this dish.
Leave a reply