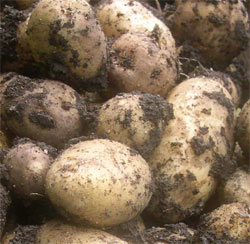 Danny is enjoying tending his potato bed. At the moment it just is tweaking the drip feed watering system from our water butts so that his seed potatoes are perfectly irrigated every day. Somehow he managed to nick the first and strongest spur of drip pipe for his bed.
Needless to say the spur that led to john Coe's potato patch was a much weaker affair and there was a blockage somewhere in the pipe. I've been watering John's spuds and the broad beans by hand.
We returned home from an excellent lunch party today and I took the blocked drip pipe apart. I huffed and puffed down the slim pipes. Then I tackled them with a balloon pump and finally a bicycle pump. After an hour of fiddling, some black earthy grunge gurgled out of the pipe and all was working well again.
Danny used to help his father plant potatoes back in Ireland. He hated it.
"It was freezing in the biting March east wind. I'd much rather have been curled up beside the fire with a good book."
Suddenly he's discovered that if you plant and tend your own potatoes it's a totally different experience. He inspects his ridges every day now. The hero of Potato Growing – the movie rather than just being an extra in someone else's film.
This evening I was weeding John Coe's rows and noticed that one potato plant was peeping through already. They did go in a week before Danny's. I wonder when D will spot that his rival is edging ahead.
Leave a reply