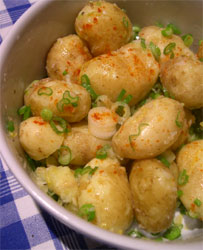 I love a good potato salad. Jersey Royals were half price on Saturday. They were ideal. Unpackaged, mud still clinging to the skins. I got home and decided to have a sniff on the internet for a good recipe. I was looking for something simple yet chic. My mum was coming to lunch and, to be quite honest, I wanted to impress her.
I found a great potato salad recipe on Delia Online involving lemon and olive oil vinaigrette and loads of spring onions. I had bought three quarters of the amount of potatoes but made the full amount of sauce.
While the potatoes were simmering and I was making the vinaigrette, Danny snaked downstairs from the rat room.
"I can smell lemon and garlic and¦" he peered into the saucepan of simmering potatoes, "what's that green stuff?"
For ten years I have been banned from using mint as Danny doesn't like it, in boiled potatoes. This evening, with him safely tucked away upstairs, I crept out to the herb border with a torch and plucked a couple of large sprigs. I reckoned that with the whirl and twirl of a visit from my mum he wouldn't notice the mint.
I forgot that if I cook "out of hours" he is constantly drawn down the stairs to the kitchen. I much prefer to cook in this way, without the constraint of supper time and a pale, pinched face at the door.
The mint was forgotten as he examined the contents of the pestle and mortar and savoured the combination of freshly crushed garlic and lemon. When I had stirred the sauce through the potatoes several times, I moved the dish out of range to a dark corner of the kitchen where he rarely ventures. There was not nearly enough for a midnight snack and lunch tomorrow.
Ten minutes later he crept into the kitchen and found it.
"Would it be OK if I sampled one or two potatoes when they are chilled, just to see what they taste like?"
He didn't taste them when they had chilled (fell sound asleep) and neither did my mum.
The next morning I got up early to add the spring onions and sprinkled over a quarter teaspoonful of sweet smoked paprika. It worked well. Delia adds grainy mustard and chives. I can see why as they add texture and enhance the appearance. I left both ingrdients out. Having over indulged on the grainy mustard front, we no longer keep it. Danny remembered that his mum had used the complete spring onion in her delicious potato salad. As I have never made a good potato salad, ever, I took the advice and dumped the idea of chives. I chopped the green spring onion ends very fine. I wanted the salad to be subtle and clean looking. The potato salad was very good.
My mum was invited for 12.45. At 13.15, I was getting a bit concerned. At 13.30 I checked our phone messages. There was a message that we had missed, 19.30 the previous evening. She was not feeling well and wouldn't be joining us for lunch.
In an immaculately (relatively) hoovered and dusted cottage we feasted alone on:
Asparagus Tart (courtesy Writing at the Kitchen Table)
Potato Salad (Deliaonline with changes)
Side salad of gentle leaves ( from the garden – Mainly baby lettuce and watercress)
Elderflower and Lime Jellies (thank you Judy. We fought over the third one).
Leave a reply